Severn Valley Railway hunts founding plaque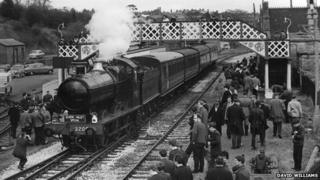 A heritage steam line is attempting to track down an original plaque marking its founding in time for the attraction's 50th anniversary.
The Severn Valley Railway, a 16-mile line between Kidderminster and Bridgnorth, was set by a group of steam enthusiasts in 1965.
A wooden plaque was displayed for 30 years in the Coopers Arms pub in Kidderminster where they first met.
Severn Valley said its fate after that is unknown.
Clare Gibbard, from the heritage line, called on the current owner to come forward and allow it to feature in a 50th anniversary exhibition opening next month.
The line was originally built in the 1860s
It follows the course of the River Severn from Kidderminster, Worcestershire, to Bridgnorth, Shropshire
It closed to through passenger and freight services in 1963, as part of the Beeching cuts
Steam enthusiasts first reopened a section of the line as a heritage attraction in 1970
The railway, run largely by volunteers, now carries more than 200,000 passengers a year
It has featured in many films including The Thirty Nine Steps (1978), Howards End (1992) and Sherlock Homes - A Game of Shadows (2011)