Badger cull 'succeeds in reducing TB', the NFU says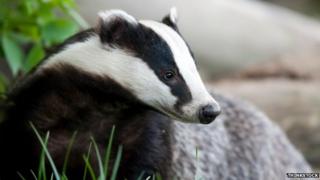 Pilot badger culls in Somerset and Gloucester have succeeded in reducing tuberculosis (TB) in cattle, the National Farmers' Union (NFU) has said.
President Meurig Raymond told the NFU's annual conference in Birmingham that TB had been reduced in the pilot areas.
Meanwhile Environment Secretary Elizabeth Truss said a Tory-led government would roll out badger culling to more TB-infected areas.
But Humane Society International UK called the culls "disastrous".
Trial culls have been taking place over the past two years.
'Control the disease'
Mr Raymond said TB incidence on farms in the Somerset pilot area had decreased from 34% to 11% compared with two years ago.
"In Gloucestershire, vets are also reporting a reduction in TB in cattle, too," he said.
"Just two days ago, one of our Gloucestershire members was given the fantastic news that his farm is now clear of TB, for the first time in 11 years.
"He is very clear that the only thing that's changed on his farm is that we are now doing something to control the disease in wildlife."
Last week Labour said if it won the upcoming general election the pilot culls would end.
Ms Truss said the Conservatives would continue with their 25-year TB eradication strategy, which includes a roll-out of the badger cull, if they won the general election.
"It is shameful that under the previous government bovine TB increased nine-fold and we ended up with the highest levels of the disease in Europe," she said.
"It is incredible that they would like to make the same mistake again."
The government sanctioned culls in Somerset and Gloucestershire a bid to stop the spread of bovine TB.
The pilots are aimed at testing how effective, humane and safe a cull can be.
Claire Bass, from Humane Society International UK, called on the government to "reverse its disastrous and scientifically discredited badger cull strategy".
She said: "The badger cull has been a very expensive, cruel and ineffective farce and Liz Truss cuts an increasingly lonely figure in continuing to defend it.
"Almost unanimous scientific opinion describes the cull as a failure, including Sir David Attenborough, Lord Krebs and even the chair of Natural England's Scientific Advisory Committee."