Chester and Wrexham call for 'banter not bitterness' between fans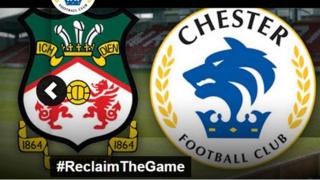 A campaign for "banter not bitterness" has been launched by Chester and Wrexham ahead of next month's derby.
Using the slogan #ReclaimTheGame, the football clubs hope their fans will sign an online pledge to work together during a three-week campaign.
Eight fans received bans last week for offensive chanting and disorder during their September meeting at Chester.
Away fans will be given a police escort to the return Vanarama Conference fixture in Wrexham on 7 March.
The campaign also includes interviews with current and former players explaining what the derby rivalry between Chester and Wrexham is all about, as well as describing some of the longstanding co-operation between the clubs.
Wrexham director Spencer Harris said: "There is a passionate rivalry between our two great clubs, but as wholly fan-owned clubs there is also far more that unites than divides us."
He added: "We urge the fans of both clubs to turn out in numbers for the derby on 7 March to #ReclaimTheGame and demonstrate the exemplary behaviour that will help us achieve this aim."
'Banter not bitterness'
Chester board member Grenville Millington said: "We also want all the fans of both teams to stand up and be counted, and to show what the culture of this special match is really about - banter not bitterness."
A joint statement from the clubs said the campaign was a "response to events during the last couple of derby games, which have marred the atmosphere following a number of years when the teams were in different leagues."
Last September a small number of Chester fans sang offensive chants about a young Wrexham fan, Scott Torrens, who died in November 2013 after suffering an epileptic seizure.
Eight fans, who admitted public order offences and pitch incursion at the game, were each banned for three years by Chester magistrates on Thursday.
Insp Steve Precious, of Cheshire Police, said afterwards: "The behaviour of some fans at this match was not only unacceptable, but also extremely offensive. The language used was extremely disrespectful towards the family of Mr Torrens."
The game is classed as a "bubble match" by police, meaning fans have to meet at a pre-arranged venue before being escorted by police to the ground.