Oxfordshire mental heath detentions cut in street triage pilot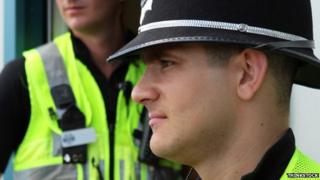 A scheme that sees mental health nurses accompanying police officers on callouts has led to fewer people being detained in Oxfordshire, police say.
The project, run by Thames Valley Police and Oxford Health NHS Foundation Trust, was initially set up as a one-year pilot from December 2013.
During the pilot, 40% fewer people were repeatedly detained under the Mental Health Act, the force said.
There was also a 73% reduction in police cell detention numbers.
In the Thames Valley, funding has been secured to extend the pilot triage scheme to west Berkshire, Reading, Wokingham, Buckinghamshire and Milton Keynes, the force said.
'Significant impact'
Street triage was involved in 1039 incidents, involving 796 people, during the pilot in Oxfordshire.
More than half of the cases involved fear of harm to self as the primary reason for concern, officers said.
The force said section 136 detentions had fallen by 26% against the same period last year and the project has allowed police officers to focus on other duties.
Assistant Chief Constable Alan Baldwin said: "The street triage team has made a significant impact by putting the needs of the person at the heart of the service, proving that by working in partnership we can find more appropriate pathways for those in crisis.
"There is still some way to go to resolve issues at a local and national level."
Police said Oxford Health NHS Foundation Trust had increased the number of "hospital-based places of safety" in Oxfordshire and Buckinghamshire, which had contributed to the "dramatic fall" in section 136 detentions in police cells.