Food fight: Is there culinary life outside London?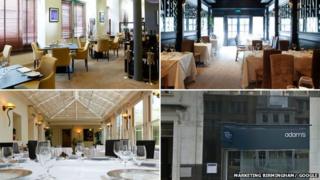 The jury appears to be out - Birmingham's "first-rate restaurant scene" is lauded by guide books naming it among the top 10 cities in the world but one of the nation's own top restaurant critics would rather leave the country than sample the "rubbish" delights of Brum.
Times writer and food critic Giles Coren said Birmingham was not well-served by restaurants and was "just a bit rubbish" when compared to similar-sized cities in Europe.
"Sorry, I've eaten in its posh ones and they're not my sort of thing at all," he said.
Mr Coren said Leeds's restaurant scene was also "rubbish" and Liverpool's "was worse".
He said there were some good restaurants in Bristol, Manchester and Cheltenham, but added: "Honestly, if I'm going out of London to eat it's more productive to leave the country."
And he is not alone.
Another well-known food critic, who wished to remain anonymous, said Birmingham was not a competitor to London and ranked "quite a way below Edinburgh, Bristol and Manchester."
Are they being a bit harsh?
Birmingham has four Michelin-starred restaurants - more than any other English city apart from London. Edinburgh has five, Liverpool has one and Bristol and Bath each have three.
Carters of Moseley was named the nation's Readers' Restaurant of the Year by the Waitrose Good Food Guide in September.
Manchester - so often Birmingham's bitter rival when it comes to determining England's second city - has no Michelin-starred eateries.
Travel handbook company Rough Guide praised Birmingham's food scene when it named it one of the best cities in the world recently.
Birmingham is also home to Cadbury, the Balti and, according to Marketing Birmingham, has a wider selection of Asian and Indian restaurants than anywhere else in the country.
Glynn Purnell, whose restaurant Purnell's is one of Birmingham's Michelin-starred dining destinations, said Giles Coren's comments were "pathetic" and shouted of "utter ignorance".
"I would not want him to come near my restaurant," he said.
He said Birmingham would never compete with London, which he said was on a pedestal with the likes of Tokyo and New York, but he said the city was an exciting place to eat.
"Manchester, Bristol and Edinburgh have a good food scene but I think we can stand up against any city in the country," he said.
Marco Pierre White said Birmingham - like many other cities - had come a long way when it comes to its restaurants.
Speaking from the 25th floor of Birmingham's Cube building, where he has a steakhouse, he said: "Back in the mid-80s, Birmingham was very industrial.
"The walls of the buildings were still black with soot. It's quite cosmopolitan now.
"The food scene has changed and it's improved enormously."
And it is not just fine dining.
In 2012, the Digbeth Dining Club was launched, providing punters with locally sourced street food ranging from toasties to Jamaican fare.
It's won the British Street Food Awards 'Best Street Food Event in the UK' 2013 & 2014.
There's also Birmingham's Secret Dining Society, where like-minded food enthusiasts liaise on social media before meeting and dining together at a mystery location.
Those who want to take part receive information about the meeting place seven days before the event.
Marketing Birmingham said there were more than 200 restaurants in the city, contributing £442m to the city's economy and employing an estimated 25,000 people.
This compares with 8,000 restaurants in London contributing about £5bn.
Marco said London would "always dominate the restaurant scene because it has the money" but Birmingham, he said, was a "proper city" where you can have as good a night as anywhere else.
Even Marketing Manchester said it was "unmistakably true it [Manchester] does lag behind Birmingham" when it comes to high-end dining.
"Twenty years ago the restaurant scene was awful in Manchester," said group spokesman Jonathan Gough.
"Previously, I'm not sure there was a demand. It's only recently Manchester has caught on to high end dining.
"Before, people did not want to pay that sort of money for a night out."
But, he said, the city does have "an array of different restaurants and cuisine". He also said some restaurants in the city were closing in on a Michelin Star.
These include The French, run by former Marco Pierre White protégé Simon Rogan, whose Cumbria restaurant L'Enclume already has two stars, and Manchester House, owned by Great British Menu winning chef Aiden Byrne.
Manchester also has its own "Curry Mile" in Rusholme with dozens of takeaways, shisha cafes and restaurants.
Rebecca Burr, editor of the Michelin Guide Great Britain and Ireland, said: "Birmingham received its first star 10 years ago and it has been pretty well represented since then.
"The current crop of stars all focus very much on using top quality ingredients and there is plenty of innovation and imagination - even when dishes have very strong classical roots.
"Almost inevitably London is still the epicentre of the British food scene. Birmingham fares very well compared to other major regional cities."
Which is England's second city for food and restaurants? Send your thoughts to locallive@bbc.co.uk