Doctor Myles Bradbury struck off medical register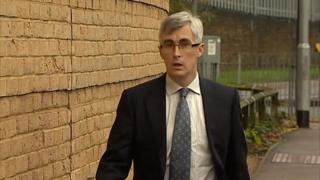 A paedophile doctor who was jailed for 22 years has been struck off the medical register.
Myles Bradbury, 41, from Herringswell, Suffolk, sexually abused 18 boys aged between 10 and 16 at Addenbrooke's Hospital in Cambridge.
All of the victims were suffering from leukaemia, haemophilia or other serious conditions, and some have since died.
A fitness to practise panel ruled his name will be erased from the medical register of doctors.
'Ultimate betrayal'
He was sacked from his job as a paediatric consultant haematologist and suspended from working as a doctor after his arrest.
Bradbury, who filmed some victims using a spy pen and abused others behind a curtain while their parents were in the room, pleaded guilty at Cambridge Crown Court to 25 offences, including sexual assault, voyeurism and possessing more than 16,000 indecent images, and was jailed in December.
In a statement after the hearing, Dr Neil Fyfe, chairman of the Medical Practitioners Tribunal Service panel, said: "Dr Bradbury's behaviour involved a wholesale breach of the trust which his young patients and their parents would have placed in him.
"The panel is in no doubt that Dr Bradbury's actions had the potential to affect the young boys he abused and their families for many years to come."
Niall Dickson, chief executive of the General Medical Council, said: "This is the ultimate betrayal of trust - Myles Bradbury has been convicted of appalling crimes against sick children and young people who trusted him to take care of them when they were at their most vulnerable."