Gatwick expansion: East Sussex County Council backs runway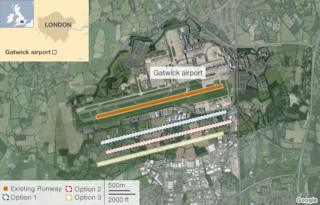 Gatwick Airport bosses' plan to build a second runway has been backed by East Sussex County Council.
Members voted by 27 to 19 in support of the runway, in response to a public consultation on south-east aviation.
Councillor Peter Pragnell said jobs and the potential improved infrastructure were the reasons for the decision.
However, at a meeting on Monday night, Crawley Borough councillors voted against the plans, joining Kent and West Sussex county councils.
Three options
Crawley council said it would continue to work closely with organisations including the airport "without prejudice and regardless of future decisions made on the airport's expansion".
Councillors also agreed that if a second runway was not officially recommended for Gatwick then the position of safeguarded land in the town should be clarified by the government and the Airports Commission.
Tunbridge Wells Borough Council and Horsham District Council have also formally declared their opposition to a new runway.
The Airports Commission is currently considering whether Gatwick or Heathrow should be the focus of airport expansion.
It says there is a need for one additional runway in the South East of England by 2030.
The commission has shortlisted three options:
A third runway at Heathrow
Lengthening an existing runway at Heathrow
A second runway at Gatwick
A public consultation ends on 3 February, and it is then due to make its final recommendation to the government in the summer.