Blackpool Illuminations to get £2m coastal grant boost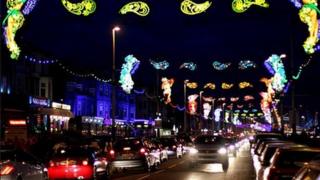 Blackpool Illuminations will receive a £2m share of £36m of government money to boost seaside areas.
The money comes from the Coastal Communities Fund (CCF) which allocates revenue from marine activity.
The money for the attraction, which drew in 3.5 million visitors last year, will be used to create new light shows.
Tate St Ives in Cornwall gets £3.8m, Scarborough receives £2.7m to refurbish its market and Saltdean Lido in Brighton £2.3m, for renovation work.
Blackpool councillor, Graham Cain, who has responsibility for tourism in the resort, said although the lights had "fantastic heritage value" the authority wanted to make the improvements visitors were asking for.
"People wanted them more modern and more interactive and that's what this bid was all about... bringing them into the 21st Century and enabling us to put on the best light show in the world," said Mr Cain.
He added the cash boost would fund 11 new posts and create 500 related jobs in the resort.
The Tate St Ives extension project began in January last year and it is expected to be complete in 2017.
Mark Osterfield, executive director of Tate St Ives, said the cash would help refurbish and extend the "iconic gallery" and generate 76,000 extra visitors a year to the area and generate an additional £87m in the local economy over the next 10 years.
The Saltdean Lido Community Interest Company (CIC), which has been granted a 60-year lease to operate the pool by Brighton and Hove City Council, said the announcement was a "monumental step forward" in restoring the Grade II* listed site.
Rebecca Crook, director and chair of Saltdean Lido CIC, said bringing the 1930s art deco structure back into full public use would "give future generations the opportunity to enjoy the lido whilst preserving a piece of our seaside heritage".
Coastal Communities Minister, Penny Mordaunt, said the funding - a record amount since the CCF was set up in 2012 - would help seaside towns become year-round destinations and secure a brighter future for Britain.
She said the money from the fund would create nearly 3,000 jobs and 1,500 apprenticeships.
The money from the CCF comes from the Crown Estates, which owns the rights to fish farms, wind farms, ports and marinas.
Successful bidders receive money equivalent to 50% of revenues generated from offshore wind and tidal power and ship moorings in the area.
The CCF recipients' list:
Furness Enterprise, Barrow in Furness, £865,000 to provide business support and training
Redcar and Cleveland Borough Council, £900,000 to create a catering academy at the Pavilion at Kirkleatham, Redcar
Hastings, £500,000 to improve the seafront and visitor attractions
Suffolk, £490,000 to improve skills in tourism along the Suffolk coast and expand visitor facilities
The Conservation Volunteers, £360,000 to improve the Solent Way coastal path through Hampshire
Lincolnshire, £1.7m for visitor centres at Gibraltar Point National Nature Reserve and at Chapel St Leonards, which were both severely damaged by flooding and the winter storms
South Shields Foreshore, £1.5m to improve the access and public space between the south and north promenades
Beacon Museum in Whitehaven, Cumbria, £900,000 to improve tourism
North Norfolk Railway, £97,000 to improve facilities at Sheringham Station, to respond to increasing visitor numbers
Whitley Bay, £2m for regeneration including the final restoration of the Grade II listed Spanish City Dome
The Ribble coastline near Preston, £131,000 for regeneration
Gravesend's Borough Charter Market, £1.8m to refurbish and to transform it into a retail centre for creative businesses and services
Port of Blyth, Northumberland, £500,000 to create a modern vocational centre for engineering and offshore training, as well as training centre for water sports
Worthing, West Sussex, £245,000 to establish a creative hub
Sunderland seafront, £540,000 to create a year-round programme of events and attractions
North York Moors National Park Authority, £455,000 to boost tourism along the North York Moors coast at the parishes of Park, by showcasing nature, fishing and culinary heritage as well as arts and traditional crafts
Seaham Marina CIC in Durham, £1.7m to creating new watersports facilities, improved boatyard facilities with 23 extra berths and improved access to the beach
East Riding, £476,000 to provide business advice to five villages on the Humber coast to boost tourism, improve flood defence and offer business support
Thanet, Margate, Kent receives £247,000 to develop tourism
Devonshire Ward, Eastbourne, £1.8m for regeneration and new leisure and business facilities
Dengie Peninsula and Maldon District coastline near Chelmsford, £292,000 to support coastal tourist and develop a coastal trail
Morecambe Bay Partnership, Lancashire, £297,000 to improve visitor facilities at Morecambe Bay, including a new visitor hub and cycling infrastructure
Great Yarmouth, Norfolk £650,000 to provide business advice, training and job networking opportunities and support jobs