The stately homes of Wolf Hall
The BBC's adaptation of Hilary Mantel's Booker Prize winning novel Wolf Hall, which hit the screens on Wednesday, features several historical properties across the West.
Filmed entirely on location in the summer of 2014, the six-part drama charts the meteoric rise of Thomas Cromwell, from blacksmith's son to King Henry VIII's closest adviser.
Starring Mark Rylance as Thomas Cromwell and Damian Lewis as Henry VIII, the lavish drama also puts a number of South West Tudor properties in the limelight.
So which properties were used and how were they adapted to represent the drama's iconic residences?
Lacock Abbey, Wiltshire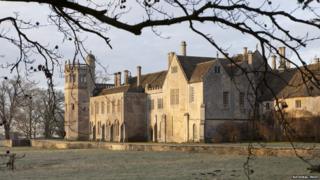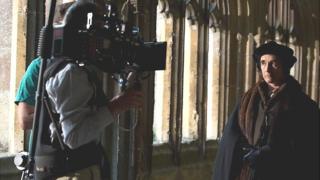 Lacock Abbey was founded in the early 13th Century by the Countess of Salisbury as a nunnery.
But following the dissolution of the monasteries, it was sold by Henry VIII to one of his courtiers, who converted it into a house.
Used in numerous productions including Cranford, Harry Potter and The Other Boleyn Girl - its exteriors were the stand-in for Wolf Hall, the Seymour family seat, while the Abbey's great hall was transformed into Henry VIII's bedchamber in Calais.
"They did a night scene here, during the day and had to black everything out with black velvet," said Graham Heard, from Lacock Abbey.
"Inside they wanted the authenticity of candlelight, so they experimented with boxes the size of coffins - full of candles - to try and get the flickering light on the walls. It was fascinating to watch."
Great Chalfield Manor and Garden, Wiltshire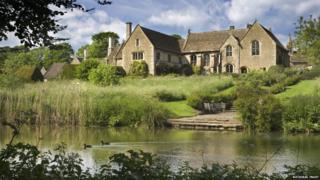 Great Chalfield Manor, near Melksham, was built between 1465 and 1480 for Thomas Tropenell, a modest member of the landed gentry who made his fortune as a clothier.
Previously seen on screen in Lark Rise to Candleford, The Other Boleyn Girl and Tess of the D'Urbervilles, the moated manor was used as Austin Friars, Thomas Cromwell's home, in Wolf Hall.
Montacute House, Somerset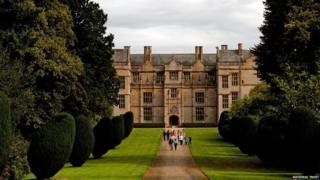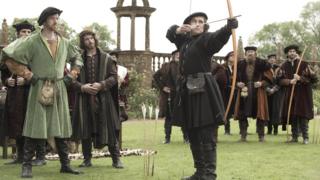 Built for Sir Edward Phelps in the late 16th Century, Montacute House doubled for Greenwich Palace, Henry VIII's main London seat and the site of Anne Boleyn's arrest.
"They had huge cranes with lighting rigs on top, and when they turned them on it was like sunlight in the middle of the night," said Mark Rogers, from Montacute House.
"They had hundreds of candles, and Montacute was one of the first houses to be built with so much glass, so when you do light it up it looks magnificent."
Barrington Court, Somerset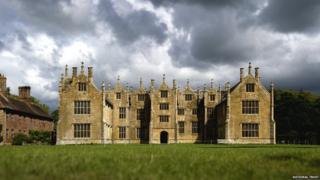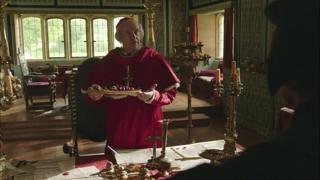 Saved from ruin and restored by the Lyle family in the 1920s, this rambling Tudor Manor house is empty of furniture and collections.
To transform it into York Place in Whitehall, the home of Cromwell's mentor and friend Cardinal Wolsey, the manor house's interiors had to be dressed.
"We don't have a furniture collection, so to see the rooms dressed was just great," said Caroline Jeeves, from Barrington Court.
"And it was great to see people walking around in Tudor costume in a Tudor house."
Cothay Manor near Wellington, Somerset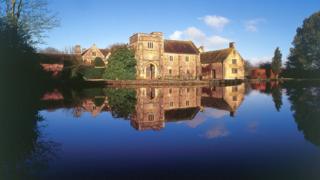 Cothay Manor, near Wellington, is a 15th Century medieval manor that was featured on Country House Rescue.
In Wolf Hall, according to owner Mary-Anne Robb, it was the stand-in for Thomas More's home.
"It was very exciting. They brought in mobile food vans and we put up our marquees and we sat down - 90 to lunch everyday," she said.
"But setting up took quite a long time, moving things around and altering it, so whether I'll recognise it or not, I don't know."
Gloucester Cathedral, Gloucestershire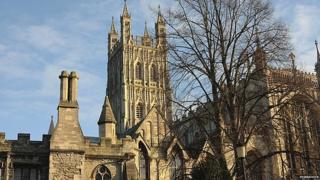 Built between 1089 and 1499, Gloucester Cathedral has served as a backdrop for a number of films and TV dramas including Harry Potter and Doctor Who.
In Wolf Hall, it was transformed into the court of King Henry VIII.
"They brought in a chip van, and these members of the court of King Henry VIII, all in costume, were lined up to get their fish and chips," said The Very Reverend Stephen Lake, the Dean of Gloucester.
"It was just one of those great sights."
Wolf Hall is due to be aired on BBC Two at 21:00 GMT.