Disabled Hampshire man refused benefits assessment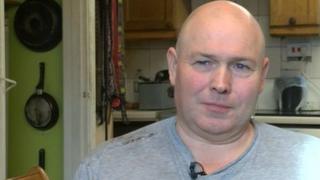 A man who had part of his leg amputated was turned away from an interview for disability benefit because he was in a wheelchair.
Michael Sparks, from Beaulieu, Hampshire, arrived at the Bournemouth assessment centre but was told he could not use the lift to the first floor.
The Department for Work and Pensions (DWP) said clients needed to inform staff in advance of access issues.
Mr Sparks has now been given an appointment for a home assessment.
He said he had waited 40 weeks for the appointment after applying for Personal Independence Payment (PIP) - the benefit replacing Disability Living Allowance - despite being told there was a 26-week wait.
After several calls to Atos, which carries out assessments for the DWP, he was given an appointment at Tamarisk House in Bournemouth but when he arrived, he was told he could not use the lift in case there was a fire.
He said: "The woman said, 'I have to ask you this, but, can you walk up and down stairs?'
"I think it was pretty obvious - in the wheelchair and having only one foot at the moment - I just said, well, no.
"Why have their offices in a building on the first floor if it's for disability assessment?"
Mr Sparks, whose foot was amputated in October after he contracted a bone infection, said he was not warned about the access issues.
He had been living on savings until his application for employment and support allowance was approved in November.
A DWP spokesman said: "People who are invited to attend the assessment centre in Bournemouth are advised in advance that it is located on the first floor and invited to contact us if they think this may present a difficulty for them.
"We are sorry that Mr Sparks had a wasted journey and a home consultation has now been booked with him."
The DWP said between January and October 2014, the number of PIP claims processed increased four-fold to 66,000 a month.