Bishop of Rochester sleeps rough for homeless charity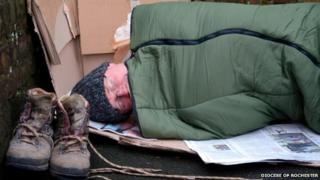 The Bishop of Rochester spent a night sleeping in the cold and wet to raise funds and awareness for the homeless.
The Right Reverend James Langstaff bedded down outside Bromley Parish Church, south London, along with about 20 other people on Saturday.
They hope to raise £10,000 for the Bromley night shelter and charity Housing Justice.
Bromley Parish Church vicar, the Reverend Anne Jablonski, said Bishop Langstaff got "quite a lot of sleep".
'Raise awareness'
She added: "He looked quite perky this morning.
"I was in a covered bit so I didn't get wet but it was open to the elements.
"I didn't get cold, I had plenty of layers on and actually had to take some off."
"It was a really good event, really good natured," Ms Jablonski said.
Before the event, Bishop Langstaff said: "Homeless Sunday is an annual opportunity for the churches to think about these issues.
"Sleeping out, as I will be doing, in no way replicates what it is like to be on the streets for a prolonged period.
"But I hope in this way to raise awareness of the issues that affect homeless people and encourage others to think, pray and respond."