Families facing gender change challenges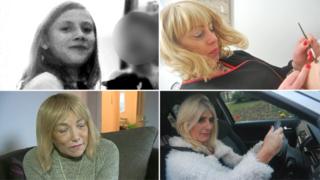 Gender reassignment surgery is typically a traumatic and emotional process for those going through it. But how do their loved ones cope with the dramatic change in their lives?
Latest figures from the Health and Social Care Information Centre (HSCIC), show a total of 1,517 procedures for gender transformations were carried out on the NHS in England between 2002 and 2013.
While some people might choose surgery, for many trans people the impact of their transition is tied to how they are perceived and accepted by society.
And for every statistic there are challenges and reactions by families and friends in understanding and coping with the changes.
---
Michelle Pindar
Tucked away in a Hull suburb is a beauty salon specialising in serving the city's lesbian, gay, bisexual and transgender (LGBT) communities.
Its 56-year-old co-owner, Michelle Pindar, underwent gender reassignment surgery in 2010 but, for the preceding 12 years, she was living two lives.
By day she was Mike, a married man working as a welder, but by night she was wearing women's clothes and going out in the city's bars and clubs.
"I had a dire time coming out," she said. "My family couldn't accept it at first, but they've had to live with it.
"My wife still wants to be part of my life, but she won't accept my transition in public."
Her only sibling, Graham, recalled the moment Michelle revealed her true identity.
"I can still picture him coming down the stairs dressed as a woman," the 50-year-old engineer said.
"My initial response was 'silly bugger'. It was a shock.
"He worked in a shipyard and was attracted to women so there was no indication."
Mr Pindar said he was supportive of his sibling's transitioning, but admits he has trouble referring to Michelle "as her" and his lack of using the appropriate pronoun is evident in his conversation.
"For 45 years he was Mike, so it's difficult to flip over. I probably struggle with that a bit, it's a force of habit."
---
Kellie Maloney
In London, 36-year-old Emma Maloney is the eldest daughter of former boxing promoter Kellie Maloney.
Previously known as Frank, the retired boxing manager helped Lennox Lewis to win a world heavyweight title in 1993.
Unsurprisingly Kellie's transitioning is one of the most high-profile transformations in the country.
Her gender has been the subject of media interest since her announcement in a tabloid newspaper last year and the press coverage intensified after her subsequent appearance on the reality TV show, Big Brother.
Being told by her father that he intended to become a woman was "shocking news" for Ms Maloney.
"Obviously it's not something you expect to hear so it was a major shock and something you can't get your head round instantly," she said.
She was the first of Kellie's daughters - the others are Sophie and Libby - to hear about the transition.
Describing the moment she saw her father dressed in women's clothing for the first time, she said: "The build up to seeing Kellie was quite daunting and scary.
"I had built up an awful image in my head but actually when I came face to face with Kellie it was fine.
"After spending 10 minutes with Kellie it was just like being with my dad."
She said the family eventually "accepted it and carried on".
"We don't feel like we've lost a dad. Kellie's still our dad on the inside at the end of the day."
As for Kellie, it was the support of her daughters that helped her through the transitioning process.
"Initially I was sad because I feared I might lose them, but in the long-term I didn't," she said.
"Without my family's support I don't think I could've got through all this."
So how does she feel about still being referred to as "dad"?
"I'm never not going to be their dad," she said.
"I've got no objections with them calling me dad because it's helped them deal with it."
---
Melissa Ede
For Hull taxi driver Melissa Ede, the reaction from her family was much more severe.
The 54-year-old, who began her life as Lesley Laurence Ede, had already been disowned by her parents before she decided to undergo gender reassignment.
And it went from bad to worse when she was turned down for an operation by her clinic 10 years ago, after consultants told her she "wouldn't be able to live successfully as a woman".
Desperate, she tried to perform DIY surgery on herself.
"I just thought: I don't care what I do in life but I am not going to carry on being a man," she said.
Eventually she underwent surgery at a hospital six years later.
But it was the support of her younger sister Cheryl and best friend Rachael Dudding that helped her, she said.
Ms Dudding met Melissa before her transition, when she was "a hippyish man with long hair".
The pair became good friends and as Melissa went through her transformation, she said Ms Dudding was her "rock".
"At first she didn't know what she was doing so I helped her with her makeup, helped her to buy clothes and encouraged her with what to wear.
"She had really low confidence so I pushed her to go into shops by herself."
---
Olie Pullen
"Support for parents is essential so you can better support your kids," said Annie Pullen Sansfaçon, a professor at Canada's Université de Montréal.
Mrs Pullen Sansfaçon is not only an academic but the mother of a 12-year-old child who now identifies as a girl but began life as a boy.
Originally from Lutterworth, Leicestershire, but now living in Montreal, Olie Pullen had an interest in "girls stuff" since infancy and her parents particularly remember her dressing as a girl from a children's TV show.
"When she was at nursery she kept saying she was Hayley and I just found that a bit odd. But we thought she was just playing up and going through a phase."
It wasn't until Olie started primary school in Lutterworth and insisted on wearing the girls' uniform that her parents realised she was different.
"Slowly she was directing us to buying more girls stuff and then three years ago she told us she wanted to be referred to as 'she'," said Mrs Pullen Sansfaçon.
With support from specialist clinicians, the Pullens agreed to change her name and dress her in girls clothing.
The family stepped up their support last year when they consented to Olie taking hormone blockers to suppress her puberty.
Her father Dan said the family worked tirelessly with her school in Montreal to enable Olie to be integrated.
"The school took extraordinary steps to make sure Olie wouldn't get bullied. They've got a zero-bullying tolerance policy. They've added gender identity in its policy and provided training to staff.
"She's been using the female bathroom for the last two years.
"So the support of the school is absolutely fantastic."
The Pullens also banded together with other parents in similar situations to create an advocacy group to support families.
"It's been a difficult process but I'd rather have a happy child and adult girl, rather than an unhappy boy," added Mr Pullen.
---
Transgender facts and advice
The NHS website defines trans and transgender as terms used to describe people who don't conform to the traditional division of male and female
Trans can refer to people who feel that they're both male and female, or neither male nor female
It also can be used to define those who cross-dress or people who don't appear conventionally masculine or feminine such as drag kings and queens
Many transsexual people have gender reassignment treatment which involves hormone therapy and surgery
To receive this treatment on the NHS requires a visit to a GP, who may make a referral to a gender specialist
There are a number of charities which support transgender people, including Gender Identity Research and Education Society (GIRES), The Gender Trust, Mermaids and The Beaumont Society
---