'Major incidents' remain at hospitals in England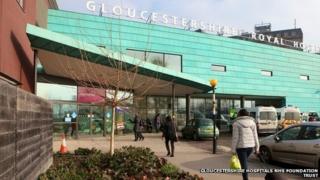 Major incidents remain at hospitals across England as staff struggle to cope with the number of patients.
Hospitals in Staffordshire, Gloucestershire, Cambridgeshire, London and Surrey are among those affected.
A paramedic in the West Midlands said A&E doors were locked at Royal Stoke University Hospital. The hospital has yet to comment on the claim.
At 19:00 GMT on Tuesday, Addenbrooke's Hospital in Cambridge also declared a major incident.
Dr Keith McNeil, chief executive of Cambridge University Hospitals NHS Foundation Trust, said the hospital had been under "extreme pressure" since New Year's Eve.
"We have declared a major incident... due to unprecedented levels of demand on our services, with especially high numbers of frail, elderly patients, combined with a record level of patients whose medical care is finished and whose discharge is delayed."
Hospitals across the country declared major incidents throughout Tuesday with extra staff being called in to work and, in some cases, surgery cancelled.
Scarborough Hospital, which had declared a major incident on Monday, de-escalated its status on Tuesday afternoon.
A spokeswoman from Royal Bolton Hospital said it, too, had de-escalated its major incident status at 20:00 GMT on Tuesday but most routine operations on Wednesday would be cancelled.
Hospitals most affected
The Royal Stoke University Hospital
Gloucestershire Royal Hospital
Cheltenham General Hospital
Ashford and St Peter's Hospitals
Walsall Manor Hospital
Peterborough City Hospital
Croydon University Hospital
Addenbrooke's Hospital
West Midlands Ambulance paramedic Stuart Gardiner, who is a Unison branch vice-chairman, said: "They actually locked the front doors for the A&E department [at Royal Stoke University Hospital] so we couldn't get in. Our management team had to phone up to try to get us in."
Mr Gardiner believes the department has shut its doors to ambulances four times previously.
Mark Hackett, the chief executive of the hospital, said there had been an "outbreak" of pneumonia in the community which had resulted in about 90 people needing beds.
"Levels of [hospital] demand this year are high nationally. This is not a local issue," he added.
Analysis: Nick Triggle, BBC Health Correspondent
If a hospital declares a major incident or internal incident, it is a sign that things have got exceptionally busy and special measures are needed to cope.
This can happen in winter when demands are high, but also at other times, for example if there is a major road accident. The declaration allows hospital bosses to call in extra staff to help them cope. But it is also worth noting that some hospitals may not necessarily go public with their problems. You can be sure that there are more sites under intense pressure than the numbers officially on alert.
What is important is what steps they take in terms of restricting the flow of patients into the hospital. One of the first measures is to start postponing routine activity, such as knee and hip operations or outpatient appointments. This is not uncommon - and is likely to be happening at a significant number of sites at the moment.
More unusual is diverting ambulances so no emergency patients arrive. In effect, that closes the hospital. However, this is only used as a last resort as it increases demands on nearby sites.
Find out latest wait times for your hospital
Ashford and St Peter's Hospitals, in Chertsey, said the pressure on A&E had eased and it was no longer having to cancel outpatient appointments, but it had postponed a "considerable" number of non-urgent operations.
At the Great Western Hospital in Swindon a treatment facility was erected temporarily to support the hospital which was having to deal with "increased demand and growing pressure" on its services.
United Lincolnshire Hospitals NHS Trust, which runs Boston Pilgrim, Lincoln County and Grantham hospitals, said all three were on "black alert" - which signifies ongoing high demand for beds - and it has had to cancel leave and call in more staff.
'Never this bad'
Pauline Pratt, acting chief nurse at the trust, said: "We are all doing what we can. If someone is sick we will treat them somewhere as best we can."
Tina White, deputy director of operations at Boston Pilgrim Hospital, in Lincolnshire, said: "I have worked in the NHS for 34 years and I have never seen it quite this bad.
"We are pleading with the public to help us manage people out of hospital and for people not to turn up at an A&E department unless they really, really need our services."
BBC News contacted several large hospitals across England to take a snapshot of how long patients were waiting in A&E on Tuesday. Our reporters found:
Portsmouth Hospitals - one-and-a-half hours
James Cook University Hospital, Middlesbrough - between two and three hours
Oxford University Hospitals - two-and-half hours (at 14:00 GMT)
Royal Liverpool University Hospital - one hour (at 12:00)
Gloucestershire Royal Hospital - two hours and 10 minutes (at 11:00)
The Queen Elizabeth Hospital, in King's Lynn, said it was also on "black alert".
The Royal Surrey County Hospital, in Guildford, reported "severe pressures" and "unprecedented" demand on A&E but has not declared a major incident.
Derriford Hospital in Plymouth, Hereford County Hospital and Norfolk and Norwich University Hospital said they had declared "internal incidents".
The problems come on the same day figures show the NHS in England has missed its four-hour A&E waiting time target with performance dropping to its lowest level for a decade