Six-fold rise in bed sore patients at South Warwickshire NHS Foundation Trust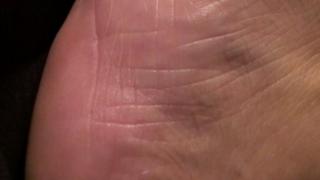 The number of patients developing bed sores has increased six-fold at a Warwickshire health trust.
There were 107 cases in 2013-14 at South Warwickshire NHS Foundation Trust compared with 18 in 2011-12, a Freedom of Information (FOI) request revealed.
Bed sores, or pressure ulcers, happen when pressure restricts blood supply to the skin, causing it to break down.
The trust said it believed a new electronic reporting system had increased the numbers.
A number of neighbouring trusts saw large decreases in cases.
The figures include community services, where environments are more difficult to control than in hospitals, it added.
Director of nursing Helen Lancaster said the number of bed sores acquired in hospital had gone down and when patients were in their own home, there was not 24-hour care from the nursing teams.
She said: "The nursing teams can go in and put [in] all the equipment and give the advice that they need to give to the patients for pressure ulcer prevention - but that advice sometimes isn't always taken."
'Robust process'
Cases at Heart of England NHS Foundation Trust, which includes Heartlands Hospital, Birmingham, and Good Hope, Sutton Coldfield, increased from 116 to 199.
Maria Mackenzie, corporate nursing at the trust, said there was "a robust scrutiny process to manage hospital-acquired pressure ulcers".
She said: "From the data recorded by Heart of England NHS Foundation Trust there has not been any pressure ulcers recorded as a serious untoward incident (a Grade 4 pressure ulcer which could have been prevented)."
Elsewhere in the West Midlands, The Dudley Group NHS Foundation Trust had an 80% fall in cases, from 192 in 2011-2012 data to 38.
Worcestershire Acute Hospitals NHS Trust had a decrease of 54%, from 74 to 34, Walsall Healthcare NHS Trust a 50% fall, from 118 to 59, and Sandwell and West Birmingham Hospitals NHS Trust a decrease of 49%, from 79 to 40.