Samuel McKinley: Jailed father of life-term sons still on the run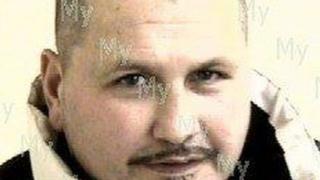 The father of two convicted murderers remains on the run from a prison in Northern Ireland where he had also been serving a life sentence for murder.
Samuel McKinley, 53, was due to return to Maghaberry Prison, County Antrim, from a pre-release work scheme on 22 December.
Jonathan and Samuel McKinley were jailed on 19 December for the murder of a newsagent in Eastleigh, Hampshire.
Their father's absconding is not being linked to their conviction.
The brothers, aged 23 and 25, of no fixed address, are currently in Winchester Prison, and will each serve a minimum of 28 years.
They killed Choudhry Zishan, 35, outside his home in the early hours of 30 March, while his pregnant wife and son were in the flat above.
He died in hospital from head injuries.
In a statement Hampshire Constabulary said: "We do not have any information to suggest that Mr McKinley absconding is linked to the recent conviction of his sons.
"We are are in touch with colleagues at the Police Service of Northern Ireland, and there is nothing at this time to suggest that Samuel McKinley may intend to return to Hampshire or Southampton.
"We will continue to monitor this."