Dumbledore the rescued seal needs a lot of care, RSPCA say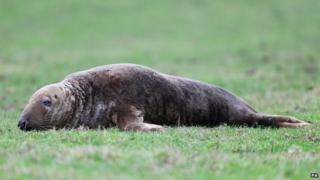 A seal found exhausted in a field miles from the sea will need "a lot of attention" before it can be released, the RSPCA has said.
The grey seal was rescued near Newton-le-Willows on Merseyside on Monday.
The adult male was taken to the RSPCA East Winch in Norfolk for treatment, where staff have named him Dumbledore, after the Harry Potter character.
Centre manager Alison Charles said the seal looked "very sorry for himself, but he is quite lively".
She said his size meant her team of seal handlers needed to "handle him very carefully", but apart from a "horrible thick nasal discharge", his condition was starting to pick up.
"He is much more settled but needs a lot of vet attention in the coming days," she said.
The RSPCA said it will probably never know how the seal came to be 20 miles inland, though it was believed he swam up the River Mersey and diverted off up a brook.
After being cornered by Merseyside Police, fire officers and marine specialists, the seal was taken to RSPCA Stapely Grange in Nantwich, Cheshire, before being transferred to Norfolk.