West Midlands pothole repair funds revealed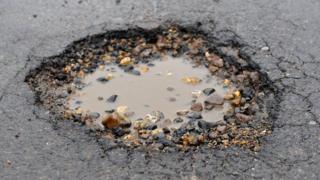 Councils across the West Midlands are to receive more than £500m towards pothole repairs, the government says.
Transport Secretary Patrick McLoughlin said the investment amounts to over £85m a year, enough to fix around 1.6 million potholes across the region.
Staffordshire County Council gets the most, at £104m, and Stoke-on-Trent the least, at £12m.
In June last year, the government said nearly £6bn would go towards potholes and road maintenance.
'Permanent repairs'
But the Local Government Association said it was not enough.
"While helpful, this new money does not bridge the overall funding gap which is increasing year on year. There is still a very long way to go to bring the nation's roads up to scratch," a spokesman said.
Claire Wild, Shropshire Council's transport and highways portfolio leader, welcomed the £86m for the council, which she said is responsible for maintaining one of the UK's largest road networks.
"The funding is enabling us to completely resurface some of our roads and permanently repair others," she said.
In Staffordshire, Mark Deaville, the county council's cabinet member for highways and transport, said the money would mean taking a longer-term approach to preventing defects.
Worcestershire County Council said it welcomed the money but "more work needs to be done to understand the detail".
John Smith OBE, cabinet member for highways, said initial estimates pointed to an increase of £3m to £4m for the council's yearly road maintenance budget.
Birmingham did not receive any money as the upkeep of the city's roads, bridges and street lights is all provided through a private finance deal with Amey.
'Christmas present'
But six neighbouring councils - Wolverhampton, Dudley, Sandwell, Solihull, Walsall and Coventry - will receive a combined £85m.
Roger Lawrence, leader of Wolverhampton City Council, said although the money meant long-term planning for councils it was a "pre-election gimmick".
"The certainty is welcome... but it's like receiving a Christmas present but finding out all your future pocket money has been deducted to pay for it."
Khurshid Ahmed, cabinet member for transportation in Dudley, said the money would help the authority to reverse damage to its road networks caused by recent harsh winters.
But it was "a drop in the ocean" compared with the amount required for a "properly maintained network of roads", he said.
The other authorities have yet to comment.