Police covering for East Midlands Ambulance Service paramedics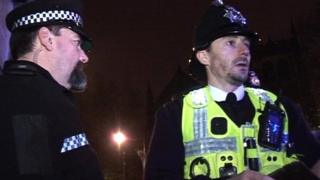 Police officers in the East Midlands are regularly having to take people to hospital because of a shortage of available ambulances, it is claimed.
Mike Creedon, Chief Constable of Derbyshire Police, said officers were increasingly attending incidents which should be dealt with by paramedics.
He said officers were having to make "life or death" decisions about the extent of people's injuries.
Ambulance bosses said they were working to resolve matters.
East Midlands Ambulance Service (EMAS), which covers Derbyshire, Leicestershire, Nottinghamshire, Lincolnshire and Northamptonshire, receives 2,000 calls a day, at a rate of one every 45 seconds.
During the festive period this rises to between 2,500 and 3,000.
Mr Creedon said it was a matter of real concern for the region's forces.
"We will often be at the scene of a road traffic collision where an ambulance is needed, and there simply isn't one available," he said.
"This is a difficult debate to have because part of a police officer's duty is to protect life - but we are not medically qualified."
Leicestershire's Chief Constable Simon Cole said transporting patients to hospital had become an almost daily occurrence.
He said: "During one recent weekend officers took nine people to hospital."
He added that although it was clear the ambulance service was experiencing very high demand, much of this was down to people not using the non-emergency number.
In a statement, the ambulance service said: "We work in very close partnership with the police and are aware that officers occasionally take patients to hospital.
"Whilst the number of times this happens is small, the reason is usually down to us experiencing very high 999 demand levels and all of our vehicles being occupied on other life-threatening calls.
"We're working hard to resolve this but where police officers on scene decide it's in the patient's best interests for them to provide transport to hospital then we would support their decision."