Woman calls 999 over dead cat in road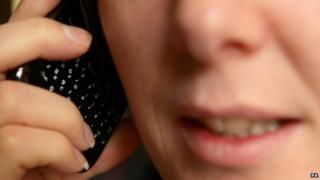 A woman called 999 to report a dead cat in a road, a campaign to stop unnecessary calls to South Western Ambulance Service has revealed.
The service said another caller dialled 999 asking for the directory enquiries number.
Deputy clinical director Adrian South said such calls could "delay our response to patients who are severely ill or injured".
The trust deals with more than 2,500 calls across the region every 24 hours.
From 21 December 2013 to 20 December this year there were 674 hoax calls within the whole trust, an ambulance spokesman said.
Ambulance chiefs have revealed the transcript of the call about the dead cat.
During the conversation, the operator explains the emergency service "only deals with humans" and suggests the woman call the RSPCA instead.
---
Cat in road transcript
Caller: There's a cat in the road. I think it's dead, it is.
Operator: Are you calling about a cat in the road?
Caller: Yeah, yeah.
Operator: I'm sorry, we only deal with humans.
Caller: Oh right, sorry. I just wonder if I got the right number. Well, what number do I ring?
Operator: I don't know, really. If you think it might be alive still, you could probably call the RSPCA.
Caller: OK, I'll give them a ring when I get into work.
---
Directory enquiries transcript
Operator: Ambulance service, what's the address of the emergency please?
Caller: Um, well it's not an emergency really. I can't get through to the operator or directory enquiries. What's the number of directory enquiries please?
Operator: Sorry, you've rung 999.
Caller: Yes.
Operator: This is emergency services.
Caller: Oh.
Operator: Is there a medical emergency there?
(Silence)
---
The trust said it often received similar calls from people trying to get help for animals, or those with minor injuries.
Mr South added: "If someone's life may be in danger with a condition such as severe chest pain, shortness of breath, unconsciousness or following a serious road traffic collision or injury with uncontrollable bleeding, they should call 999."
The Keep the 999 Line Free for Me campaign is being run by the trust which covers Cornwall, Devon, Bristol, Bath, Dorset, Gloucestershire, Somerset and Wiltshire.