Devon and Cornwall Police see further £9m budget cut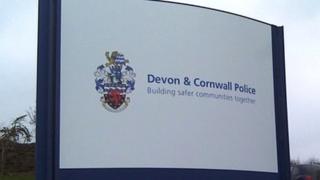 Devon and Cornwall Police will have £9m less to spend next year following a Home Office announcement on funding, the force's commissioner has confirmed.
Tony Hogg said the "more than expected" cut would "no doubt" hit services.
He added the force had no choice but to "explore issues such as reducing officer numbers, closing police stations" and find new ways for the public to deal with the police.
The government said it would ensure forces had the "resources they need".
'Unpalatable choices'
The new government cuts for 2015/16 are on top of £51m the force has been attempting to save over the last four years.
The commissioner's office said that the figure of £9m was £1m more than it had been expecting to deal with in the run-up to the Home Office announcement.
Mr Hogg said the "substantial" new cut would "no doubt" impact on the way "that Devon and Cornwall is policed over the coming years".
He said: "None of these choices are easy and many are unpalatable to both us and the public. But it is now impossible to absorb this level of budget reduction without an impact on the service provided to the people."
He said he would carry out public consultations to see if further service reductions could be suggested, or to ask if people "would rather pay more council tax to maintain high quality policing".
Janice Adam, of the Devon and Cornwall Police Federation, which represents officers up to the level of chief inspector, said the new cuts were "quite worrying on top of those we have already had to take".
"Officers are already stretched and working to capacity," she said.
"We have done the best to look at non-staff savings. All there is left is reducing officer numbers."
Announcing the reduction of £299m in the 2015-16 police funding budget in England and Wales last week, policing minister Mike Penning acknowledged the 43 forces affected were facing "many challenges".
But he added that the government would always ensure they had the "resources they need for their important work".
The force's budget for 2014/15 was £292.5m, the commissioner's office said.