South Central Ambulance Service: Foreign paramedics labelled 'short-term fix'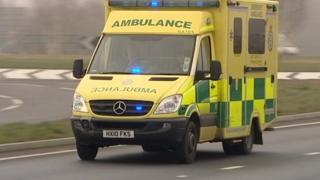 Recruiting paramedics from abroad to plug a gap of more than 200 posts across the south of England has been labelled a "short-term fix" by a union.
South Central Ambulance Service (SCAS) recently held a recruitment drive in Poland to help fill vacancies.
Unison said more investment was needed with paramedics under increasing pressure and many choosing to leave the service.
SCAS insisted shifts were being filled but acknowledged there was a problem.
The service, which covers Berkshire, Buckinghamshire, Hampshire and Oxfordshire, said patients are not at risk as agency workers were filling any gaps.
South Central paramedic Gavin Bashford, and a Unison member, said increased demand and staff leaving had put pressure on the service.
"We can have big delays responding to 999 calls, three, four or five hours is not uncommon, and the pressure on staff is quite huge."
Sarah O'Donoghue, South East regional Unison organiser, said: "[Recruiting aboard] is a short-term fix and deprives that country of trained paramedics. We need to be investing here to ensure we meet our paramedic needs.
"The ones that are [working] are under huge pressure and a lot of them are leaving."
Ian Teague, from SCAS's education team, admitted workloads had increased and one of the issues was it now took longer to train paramedics.
"Paramedic work is desirable, for every 30 places at university they receive 500 applicants, but the numbers of people who leave university and take up jobs is dropping.
"The recruitment from overseas is part of a number of schemes which we are exploring."