East Midlands Ambulance Service called 100 times an hour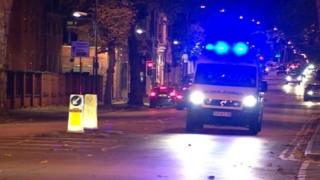 Paramedics were called 100 times an hour during their busiest period on the last Friday before Christmas in the East Midlands.
Alcohol related injuries accounted for the majority of 999 calls but trips and falls also featured highly.
East Midlands Ambulance Service said it dealt with almost 2,500 calls on Friday - about 500 more than an average day.
The figures were similar to last year but significantly lower than the weekend before.
Fifth busiest day
EMAS, which covers Derbyshire, Leicestershire, Nottinghamshire, Lincolnshire and Northamptonshire, was expecting a busier than normal Friday, setting up special triage centres to help with the demand.
During the busiest period between 23:00 GMT on Friday and 07:00 on Saturday, it received 700 calls.
But last weekend was the fifth busiest in its 15 years, with the service receiving more than 3,000 calls last Saturday.
On an average day, it receives 2,000 calls at a rate of one every 45 seconds.
To cope with demand EMAS used joint police and ambulance vehicles and was helped by Community First Responders, the British Red Cross and St John Ambulance.
Greg Cox, EMAS general manager, said: "We expect to continue to receive significant call numbers over the next few weeks especially if the weather deteriorates."