Paramedic Chris Williams in birthday Ebola aid mission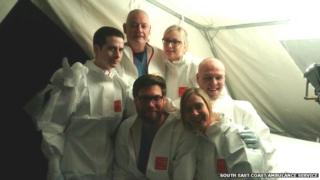 A British paramedic is spending his 59th birthday helping Ebola sufferers in Sierra Leone on Christmas Day.
Chris Williams, who works for South East Coast Ambulance Service, flew out to Freetown earlier this month as part of a team of volunteers.
He said he saw the need to do something after viewing footage of the situation in West Africa.
Mr Williams is part of the second cohort of NHS staff deployed to the region by UK-Med, the service said.
'No stranger to danger'
In the week leading up to his deployment, Mr Williams underwent intensive training in the West Midlands, which included how to use protective suits.
The ambulance trust, which serves Kent, Sussex and Surrey, said Mr Williams was "no stranger to danger zones".
He carried out aid work in Romania following the collapse of communism in the Eastern bloc.
He was also among the first paramedics to arrive at the scene of the IRA Brighton bombing.
Mr Williams said: "I think that we have the skill set and are ideal to help these people. And from the footage that I've seen we need to do something."
The paramedic and clinical team leader, who is spending Christmas away from his family, is working at one of the British-built Ebola treatment centres in Sierra Leone.
After he arrived there, he had further training including acclimatisation in the treatment centre.
He began treating patients on 19 December and plans to return to the UK at the end of January.
'The right thing'
Mr Williams, from Worthing, West Sussex, described the trip as "exciting but daunting".
He said he knew the work would not be easy, but it was "the right thing to do and potentially life-changing".
The Ebola outbreak in West Africa was first reported in March, and has become the deadliest occurrence of the disease since its discovery in 1976.
Up to 15 December, 6,856 people were reported as having died from the disease in six countries: Liberia, Guinea, Sierra Leone, Nigeria, the US and Mali.
The total number of reported cases is more than 18,000.
The World Health Organization has admitted the figures are underestimates due to the difficulty in collecting the data.
Germany, Norway, France, Italy, Switzerland and the UK have all treated patients who contracted the virus in West Africa.