East of England councils under budget pressures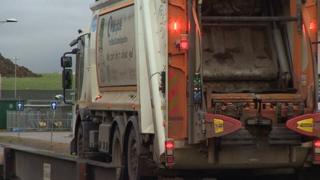 Our roads, our refuse, our libraries - all services provided by local authorities. Councils are now working out how to balance their books after being told how much they will get in income from central government next year.
The government says councils will see their spending power reduced on average by 1.8%.
Spending power can be described as the amount councils receive, which includes income from council tax, business rates and other grants.
It also includes money the government gives them for ring-fenced projects such as public health and joint work with the NHS on adult social care.
The Local Government Association says councils will get almost 9% less from the government and services would suffer.
In the east, income to Norfolk's councils are down by an average 4.3%, Suffolk's by 2.6% and Essex's by 2.7%.
Some of the main losers appear to be Norwich, Waveney and Tendring, while Uttlesford and South Norfolk will see their spending power increase next year.
The government pledged that no council will face a loss of more than 6.4% in its spending power and we've got several of those, including Tendring, where Douglas Carswell MP recently won in Clacton for UKIP.
Wellingborough, in Northamptonshire, too has a 6.4% cut and Waveney will face losing 6.3% of its income from government.
Nearby, Great Yarmouth, seat of local government minister Brandon Lewis, also faces the maximum 6.4% reduction - although it's one of the few councils that will receive a sweetener in the form of an efficiency support grant.
Struggling to cope
Some councils believe they will be able to cope with the news from Whitehall.
In the last four years Forest Heath Council in Suffolk has cut spending by 45% through back office savings and sharing services.
Its Conservative leader James Waters said: "We have cut out any duplication and we're a lot more business organised now.
"Front line services have been 100% protected - complaints are down - so we must be doing something right. If we can do it anyone can do it," he said.
But others are warning that they may struggle.
"The day will come when there are no more efficiencies to make and then you start eating into us... into essential services people rely on," said George Nobbs, Labour leader of Norfolk County Council.
'Austerity set to last'
Cambridge, South Cambridgeshire and Central Bedfordshire will also see increases to their income from central government.
While some of the biggest drops in funding will be seen in places like Wellingborough, Fenland and Stevenage.
According to Labour leader Sharon Taylor, Stevenage suffers through not having the space to capitalise on the valuable funding stream, the new homes bonus.
Authorities like Uttlesford, where lots of new homes are planned, has benefitted from it.
But in Northamptonshire they'll be pleased with the announcement. They've said they want to put up council tax by 1.95% and now the government has said they can do that without holding a referendum.
Many councils in the region are now spending at least a third less than they did four years ago. The way in which local government is run has changed dramatically.
These figures from Whitehall will be discussed by councils next month as they begin setting their budgets for 2015-16 but with austerity set to last for at least another four years, authorities will have to be more and more imaginative if they're to balance the books and protect services.