Ivars Mezals and Juris Valujevs jailed for illegal gangmaster trade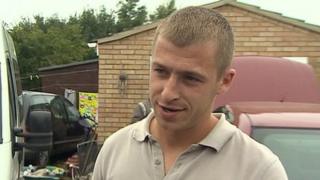 Two men who exploited migrant workers into "back-breaking" work for less than £1 a week have been jailed.
Ivars Mezals, 28, from Wisbech, Cambridgeshire, and Juris Valujevs, 36, from King's Lynn, Norfolk, used fear to control people brought to the Fens from the Baltic States.
They were found guilty of acting as illegal gangmasters on Thursday at Blackfriars Crown Court.
Mezals was jailed for 18 months and Valujevs for 16 months.
The nine-week trial heard the pair had "systematically exploited, manipulated and intimidated" their victims between January 2009 and October 2013.
The BBC exposed them last September after a four-month investigation, which found dozens of workers from Latvia and Lithuania who were trapped in a widespread network of exploitation.
The court heard the workers travelled to the UK voluntarily to pick vegetables in the fields of Norfolk, Cambridgeshire and Lincolnshire.
Sentencing the pair, Judge David Richardson said: "There is a message in this case for everyone involved in the supply of migrant workers in the fields and processing and packaging plants of East Anglia.
"If you do not have a gangmaster's licence you must not supply workers, either directly or indirectly."
Those who did supply faced the prospect of "an immediate prison sentence", he said.
He urged farmers and factories not to recruit workers from unlicensed gangmasters.
But the judge said he did not think the men had kept their workers in "debt bondage".
"I emphasise that this case, unlike some others that have appeared in the press, is not concerned with human trafficking, it is not concerned with modern slavery," he said.
A Proceeds of Crime Act hearing, to claw back money made from the enterprise, will be held at the same court in March.