East Midlands Ambulance: Increase in paramedic stress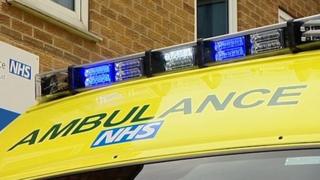 The number of paramedics on long-term sick leave in Northamptonshire has increased.
BBC Radio Northampton has discovered 280 paramedics working for the East Midlands Ambulance Service were off for more than a month in the past year.
The rise from 196 in 2011 is blamed on stress and long hours affecting health.
Chief executive Sue Noyes recognised paramedics dealt with stressful situations and said managers were being trained in support techniques.
The number of staff blaming sickness on stress has increased from 36 last year to 61 in 2014, BBC figures revealed.
Paramedic Alan Brooks, from Northampton and a Unison union representative, said the figures were not surprising.
He had been on sick leave over stress as a result of working long hours in stressful situations which he called "bad jobs".
Technician role returns
"You do not have time to get over these bad jobs because of the hours we have to work without breaks as so many experienced staff have left," he said.
Ms Noyes recognised that paramedics had to deal with fraught situations and the service was taking steps to support all staff.
The figures refer to Northamptonshire but the remedies are being applied to staff across Nottinghamshire, Leicestershire, Derbyshire and Lincolnshire.
"We are taking a more structured approach with a peer-to-peer support network, debriefing training for managers and we have introduced a chaplain," Ms Noyes said.
In reply to concerns over the use of emergency care assistants and staff shortages, she said the service was recruiting experienced paramedics and was bringing back the technician role.
"Paramedics are the lead clinicians and emergency care assistants support them.
"We have now recognised the value of trained technicians in emergency situations and are recruiting more of them."