West Midlands councils braced for funding cuts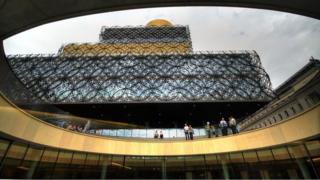 Next year's £117m savings proposed by Birmingham City Council mean 1,100 more job losses.
Stoke-on-Trent City Council set out plans to save £31m with the loss of 500 jobs on the very day the chancellor's Autumn Statement confirmed we are not even halfway through the so-called 'Austerity Cuts'.
With government spending still outstripping its income by £90bn per year, we know that where Birmingham and Stoke-on-Trent have gone already, others will surely follow.
The message from Birmingham's Labour leader, Cllr Sir Albert Bore, is that although his administration is directly responsible for the cutbacks, the political blame for them rests with the coalition government.
But Conservative council leaders, including Philip Atkins in Staffordshire, see things very differently.
'Working smarter'
Local and central government alike must live within their means, they say. Authorities like theirs are showing how working smarter and forming partnerships to cooperate, for example, in the delivery of local health services, produces a genuine 'win-win': improved outcomes at a lower cost.
It all plays into the debate that's set to be a defining theme of the next election, the so-called "re-imagining of the role of the State".
Even George Osborne's Lib Dem partners suggest he would make austerity permanent if he had his way.
Ed Miliband, by contrast, says that even after his pledge to cut the deficit year-on-year, a Labour government would maintain its stewardship of our public services. It all adds up to a clear choice for voters. And that, of course, is what elections are for.