New Kimberley tramline suffers setback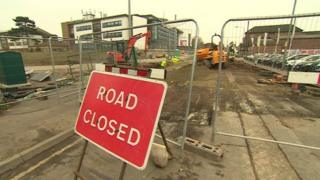 Plans for a fourth tramline from Nottingham to Derbyshire have suffered a setback.
Broxtowe Borough Council has voted not to help fund a feasibility study into a proposal for a line to Kimberley.
Line one opened in 2004 and a £570m extension - lines two and three - is due to open in 2015, six months late and after complaints about disruption.
Opponents to the study said it was important to learn from phase two before considering further extensions.
The idea for line four, a £180m route from Nottingham to Ripley in Derbyshire, via Eastwood, Kimberley and Langley Mill, has been discussed for years.
Broxtowe council's cabinet was asked to approve a £20,000 contribution towards the estimated £70,000 cost of a feasibility study.
The proposal was turned down - by six votes to four - with all Liberal Democrat and Conservative councillors voting against.
David Watts, leader of the Liberal Democrats, insisted he was not against the tramline in principle.
"A feasibility study into the line to Kimberley isn't necessarily going to answer the big questions of what has gone wrong in Beeston.
"Before we can consider whether it is right to go to Kimberley and whether it is practical, we just need to learn those lessons.
"So have an inquiry first into what the problems are and then we can look at whether it is feasible to extend to Kimberley or anywhere else," he said.
Richard Robinson, from the council's Labour group, said the vote was "shameful".
"This was a grassroots campaign, not political, which had made real progress and suddenly the Liberal Democrats have voted against.
"It is a roadblock but we will get round it, there will be a new report in January which hopefully will answer some of the questions."