Badger cull fails to meet target in Gloucestershire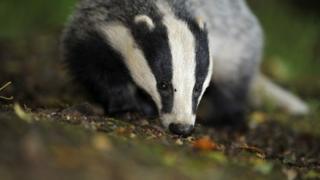 Fewer than half the target number of badgers were killed in this year's cull in Gloucestershire, Defra has announced.
Figures released show 274 were culled by shooting or cage trapping in the county. The minimum target was 615.
In Somerset, where 316 was the minimum target, 341 badgers were killed. The six-week cull ended in October.
Defra said the level of interference by anti-cull activists had been higher in Gloucestershire than in Somerset.
'Intimidation'
Writing in a statement to the government, Environment Secretary Liz Truss said: "The results in Gloucestershire reflect the challenges of extensive unlawful protest and intimidation."
However, Gloucestershire Police said there were only three arrests for criminal offences during the entire period of the cull and most protest activity was conducted lawfully.
"All reports made to Gloucestershire Constabulary of intimidation and harassment have been fully investigated and there are no prosecutions pending," a spokesman added.
Last year's pilot cull failed to meet its target in both Gloucestershire and Somerset, and an independent panel found the culls were ineffective and inhumane.
Five minutes
The findings from Defra show this year in Somerset 147 badgers were culled by controlled shooting and 194 by cage trapping.
In Gloucestershire 166 were shot, and 108 trapped.
The figures show none of the shot badgers, which were observed by staff from Natural England monitoring the humaneness of the cull, took longer than five minutes to die.
The report concludes the levels of accuracy achieved in this year's cull were "slightly, but not significantly" improved compared to 2013.
The pilot culls are aimed at testing how effective, humane and safe a cull can be.
Cull supporters blame badgers for spreading TB to cattle.
'Slow start'
Chief veterinary officer Nigel Gibbens admitted the cull might not lead to the hoped-for reduction of the disease in Gloucestershire.
"The benefits of reducing disease in cattle over the planned four-year cull may not be realised there," he said.
He said that two more scheduled pilot culls, in 2015 and 2016, should continue, and added that culling could be extended into 2017 because of the "slow start" in Gloucestershire.
Peter Martin from the Badger Trust said the cull had been a "spectacular failure" in Gloucestershire.
"We've been sold the idea a cull would solve part of the the problem of TB and it clearly hasn't.
"I think this should be the end now of any future culling. It clearly doesn't work."