Scarborough and York to host first Tour de Yorkshire race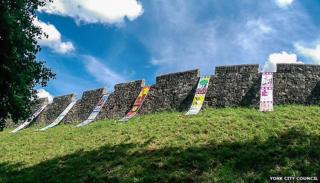 Two councils have agreed funding to host stages of the first Tour de Yorkshire race in May 2015.
A decision was made to hold a professional cycling race in Yorkshire after the Tour de France began in the county in July.
Scarborough Council said it would pay around £135,000 to host a stage of the race, which includes a £100,000 hosting fee for the organisers.
City of York Council has also agreed to provide £150,000 in running costs.
York councillors said the hosting fee would have to be paid for through "external funding".
York and Scarborough have until Monday 22 December to register their commitment to host the race with organisers Welcome to Yorkshire and the Amuary Sport Organisation (ASO).
The three-day race was announced in September and hopes to build on the success of the Tour de France.
The organisation estimates one million people will visit the region over the three days, to watch 160 professional cyclists from around the world compete.
The ASO will provide specialist equipment such as big screens and podium stands, but the councils are expected to provide crowd barriers, toilets, power and water.
Scarborough Council said hosting the race would "showcase the area as a destination" and said the financial benefits were "likely to exceed by some margin the cost of £135,000 to the council".
The route of the race will be confirmed in early 2015 but it will incorporate six start and finish locations, and each stage will be a distance of around 180km (112 miles).
The race would also include a women's race on the second day, and a mass participation sportive on the third.