Gang of 12 suspected in 200 south east burglaries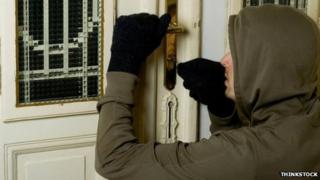 A gang of up to 12 burglars is believed to be responsible for more than 200 break-ins across London and the south east, police have said.
Cash, jewellery and electrical items have been stolen in break-ins to the rear of people's homes since September.
Between 8 and 14 December, 18 burglaries in Sussex; four in Surrey and 22 in Kent, are thought to have been committed by the gang.
Sussex Police said the gang members used may change with each burglary.
Crowborough, Crawley, Haywards Heath, Horley, Redhill, Smallfield, Sevenoaks, Tunbridge Wells and Maidstone are among the towns targeted by the burglars.
'Thieves escaping'
In London break-ins have taken place in the Bexley, Orpington and Croydon areas.
The burglars are using silver or dark-coloured cars, usually an Audi or BMW to drive to the properties.
It is believed the thieves use cars fitted with number plates cloned from unconnected cars of the same type and colour.
Officers have appealed to anyone who sees people changing number plates or who finds abandoned plates to come forward.
"The key to identifying the people responsible may come from residents living near one of the victims," said Det Chief Insp Richard Clay of Surrey Police.
"They may have seen the thieves escaping in their silver car or could have seen people acting suspiciously.
"If something sticks out as suspicious to you, please tell us so we can investigate - it could be the break that we need to catch those involved."
Kent, Surrey and Sussex Police and Crimestoppers have all contributed to a reward of £10,500 being offered for information leading to the conviction of the burglars.