Final editions for seven regional Trinity Mirror newspapers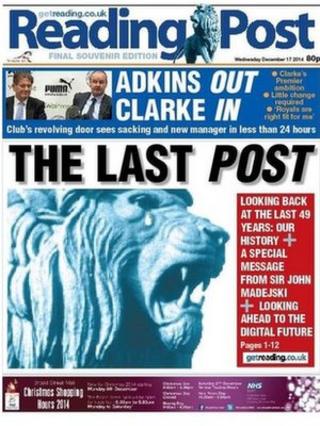 The Reading Post, Surrey Herald and Surrey Times have printed their final editions following a decision to close seven local newspaper titles.
Trinity Mirror announced last month that up to 50 jobs were set to be lost as the titles become online-only.
The Wokingham and Bracknell Times, Harrow Observer, Woking Informer and getreading will print their final editions later this week.
Trinity Mirror said it was a bold move but the NUJ called it very worrying.
The company said 12 new digital roles would be created.
Following the announcement, Simon Edgley, managing director of Trinity Mirror Southern, said: "Decisions that impact our staff are never easy to make but they are absolutely necessary if we are to continue our transformation into a modern multiplatform publishing operation."
Trinity Mirror National Union of Journalists group chapel officer Chris Morley called the scale of job cuts "catastrophic" and said: "One wonders where the quality journalism will come from when so many journalists are expected to sacrifice their jobs."
'Sad day'
In Berkshire, about 17 editorial, three administrative and six commercial roles will be lost and about 10 new digital editorial roles and two digital commercial roles will be created.
In Surrey and west London there will be a reduction of about 24 roles across the editorial and commercial departments.
Guardian assistant editor Michael White, who began his career at the Reading Post, said: "It's a sad day today. I arrived at my first job when I was 21 in November 1966 and I stayed until 1970. Howard Green was the editor.
"I met my wife Pat Gordon there on the Reading Evening Post, Bill Smethurst, who went on to be editor of the Archers, John Harrison, who was killed working for the BBC, all sorts of people who came after me."
Michelle Stanistreet, NUJ general secretary, said: "The closure of this award-winning and popular newspaper makes absolutely no sense to the readers or the dedicated journalists and staff who have been serving their local community with news, features, gossip, information and the trials and triumphs of the town's football club for many years.
"The National Union of Journalists is deeply concerned that the closure of local newspaper titles and the relentless cuts to journalist jobs means that courts are not being covering, council meetings are not being reported and other public bodies, schools and businesses are not being held to account."