Airports Commission hears new Gatwick runway options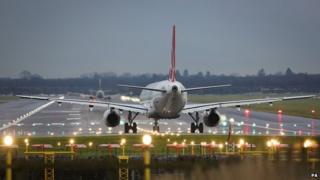 The arguments for and against a new runway at Gatwick Airport are being heard by the Airports Commission.
It has been tasked with weighing up where a new runway should be built to meet rising capacity demand in the south-east of England.
It is considering three options - a second runway at Gatwick, a third runway at Heathrow, or an extension to one of the existing Heathrow runways.
Alternative proposals have already been ruled out.
The commission, headed by Sir Howard Davies, has said there is a need for one additional runway by 2030.
It is visiting Crawley, in West Sussex, to cross examine Gatwick Airport bosses and put those who oppose the plans under the spotlight.
---
Analysis: Mark Norman, business correspondent, BBC South East
This will be a tough day for the bosses at Gatwick Airport who want to build a second a runway, and a tough day for campaigners who oppose those plans.
Both sides will be cross examined by the Davies Commission.
For months both have traded facts and figures, and have argued their cases in public meetings and in front of the media.
One campaigner told me they hope today will get them "nearer to the truth".
But he also admitted he wasn't looking forward to the close questioning he would face.
Gatwick believes a second runway will boost the local economy while providing extra capacity for a growing number of flights.
Many people across Kent, Sussex and Surrey believe it would blight their homes and would not produce many of the stated economic benefits.
---
Meanwhile, a paper published by the Gatwick Area Conservation Campaign (GACC) ahead of the meeting has concluded a second runway at Gatwick would cause problems for many of the businesses located in the local area.
The main problems predicted include a shortage of labour, higher costs, and traffic congestion.
It says that according to the Office of National Statistics there are more than 30,000 businesses in West Sussex, with the majority located in the north of the county, in the vicinity of the airport.
Surrey has 61,900 businesses but with less concentration around Gatwick.