Oxfordshire, Buckinghamshire and Northamptonshire councils unveil alliance plan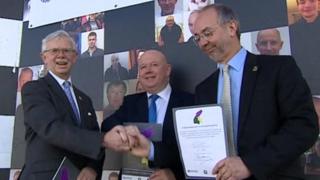 Three rural councils have launched a bid to have key powers devolved to them from the government.
Buckinghamshire, Oxfordshire and Northamptonshire County Councils have announced they want to form a combined authority.
The move means local authorities in England can work together to take on functions in areas such as transport, employment funding and infrastructure.
It will need an Order of Parliament to be formally established.
'Golden opportunity'
"It's not a super-council," said Oxfordshire County Council leader Ian Hudspeth.
"Each council will still have its own sovereignty within its own boundaries.
"What we're talking about is a combined authority that's going to provide the economic drive for infrastructure, for the skills agenda, because business doesn't recognise boundaries."
The councils have not yet met with government officials to discuss the idea, which leaders unveiled at Silverstone race course.
Councils on Teesside announced similar plans in November.
Similar authorities are already running in West Yorkshire, Sheffield, Liverpool and Greater Manchester.
Buckinghamshire County Council leader Martin Tett said: "The benefits could bring billions more to our three economies, which is great news for the future."
Leader of Northamptonshire County Council Jim Harker said the alliance would provide a "golden opportunity" to drive forward "economic growth".
Nearly two million people live in the three counties of Buckinghamshire, Northamptonshire and Oxfordshire.
---
BBC political reporter Helen Catt: 'Lengthy statutory process'
Joking together on the winners' podium at Silverstone motor circuit, there was little doubt all three leaders were excited by the prospect of a combined authority.
They see it as a way of getting the skills and infrastructure needed by businesses which have a strong presence in their counties, like the motorsport industry.
But there are plenty of eventualities which could send it skidding off the track.
It will need to pass a lengthy statutory process to be formally established.
And, of course, there's an election in May.
They're keen this gets off the starting grid long before then - to make sure their grand plan for "driving prosperity" doesn't stall.
---