Family's heartache as Nick Dunn stuck in India for second Christmas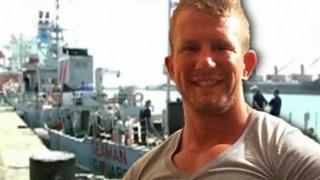 The family of a British man stuck in India, who was cleared of possessing weapons, say they are sad he will spend another Christmas away from home.
Nick Dunn, 28, from Ashington, Northumberland, was one of six Britons accused of illegally possessing weapons while working on a private US-owned ship providing anti-piracy protection.
The charges were quashed in July.
But as police have asked the supreme court to consider an appeal, the men's passports have not been returned.
Mr Dunn's sister, Lisa, said: "They're telling us he's a free man. He's anything but that.
"He's still very angry and bewildered about how it has been allowed to drag on for so long.
"Cracks are starting to show but it's our job to pull him out of that."
Along with Mr Dunn, the men arrested on 12 October 2013 are:
Billy Irving, from Connel, Argyll
Ray Tindall, from Chester
Paul Towers, from Pocklington, North Yorkshire
John Armstrong, from Wigton, Cumbria
Nicholas Simpson, from Catterick, North Yorkshire
They are all still in India while they await the outcome of the legal process.
Mr Dunn, 28, was released from prison in April and is living in a hostel on the outskirts of Chennai with two Estonians who were also part of the crew of the MV Seaman Guard Ohio.
"I haven't come to terms with the thought of him not being back for Christmas," Ms Dunn said.
"It's really emotional.
"We've packed some pasta soups, magazines and shorts and vests to send, but they're not the Christmas presents we'd like to give him."
The Foreign and Commonwealth Office said the Prime Minister had "again pressed" his Indian counterpart for a resolution to enable the men to return home.
It added: "While we cannot interfere in the judicial process, it has been progressed faster than would otherwise have been the case in India."
The BBC contacted the High Commission of India in London for a comment but did not receive a response.