Southern Water video criticised for use of carol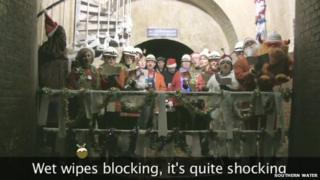 A water company has been criticised for using a Christmas carol in a social media campaign about blocked sewers.
The Southern Water YouTube video features sewage workers singing about how to keep pipes clear to the tune of We Three Kings.
Christian campaigner Chris Whitehouse described it as a "cheap and offensive" use of a "sacred" song.
Southern Water said it was a "light-hearted attempt to spread a serious message".
The song, aimed at preventing sewer blockages and flooding includes the lines such as: "We three Ps can go down the loo, pee and paper and of course poo,
"Wipes and nappies makes sewers unhappy, clogging up pipes like glue."
It has been viewed about 1,300 times on YouTube.
The company said it dealt with 11,000 blockages on its sewer network this year.
'Positive feedback'
Mr Whitehouse, a Conservative councillor on Isle of Wight Council, said the company had taken a "cavalier attitude to deeply held beliefs of the Christian community".
"It really isn't appropriate to change the words of a sacred song so you are talking about raw sewage."
BBC Radio Solent religious presenter Tim Daykin said: "The moral issue here is that a water company, like any monopoly, has a special responsibility to be sensitive to the sincerely held views of all its customers."
A Southern Water statement said: "We are sorry if anyone has taken offence to the song - this was absolutely not our intention,
"We have had a lot of positive feedback on the song including from a number of the performers in the Southern Water choir who are Christians."
We Three Kings of Orient Are was written in 1857 by Reverend John Henry Hopkins from Pennsylvania.