Councils' parking revenues increased 12% last year, study finds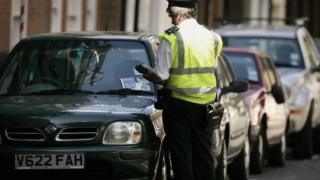 The money councils earn from parking rose 12% last year, according to an RAC Foundation survey.
English councils' combined surplus from parking operations went from £594m in 2012-13 to £667m in 2013-14.
The five local authorities yielding the biggest take in parking fees were all in London, the research showed.
A spokesman for the Local Government Association condemned the report as "misleading".
The RAC Foundation director Prof Stephen Glaister said parking charges were a "one-way street for councils", claiming they had risen annually for the last five years while spending on local roads had fallen.
The figures were reached by adding up income from parking charges and penalty notices, then deducting running costs.
Communities and Local Government Secretary Eric Pickles said the analysis "shows how town halls are committing daylight robbery by ripping off drivers with exorbitant parking charges".
The LGA's transport spokesman, Peter Box, rejected the claims, arguing the study was "based on the deep-rooted misconception that councils make a profit from parking".
Top 10 councils for parking charge surpluses
Westminster (£51m)
Kensington and Chelsea (£33.5m)
Camden (£24.9m)
Hammersmith and Fulham (£23m)
Wandsworth (£19.7m)
Brighton and Hove (£18.1m)
Nottingham City (£12.1m)
Islington (£10.4m)
Tower Hamlets (£8.3m)
Brent (£8.3m).
Source: RAC Foundation
By law, any surplus councils make from parking fees must be ploughed back into transport projects such as road improvements.
Heather Acton, parking spokeswoman for Westminster, the highest-earning council, said it was "hardly surprising that we are talking about big numbers, due to the huge demand for parking in Westminster".
The RAC calculated that the total surplus accounted for 14% of councils' spending on transport in 2013-14, falling to 7% after running costs were taken into account.
Its analysis also suggested that local authorities were making some improvements in efficiency, having reduced their running costs by 10% for on-street parking and 8% for off-street.