MPs' Twitter porn 'hack': Lincolnshire Police contacted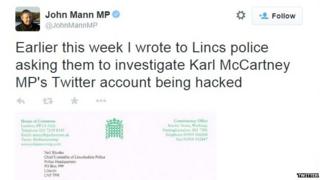 A Labour MP is calling on police to find out who was responsible for "favouriting" a pornographic image on a Conservative MP's Twitter account.
Karl McCartney, Tory MP for Lincoln, had denied using the "favourite" function on the social networking site, claiming his account had been hacked.
John Mann, Labour MP for Bassetlaw, wrote to police asking if they could establish who "favourited" the tweet.
Lincolnshire Police said no formal investigation was under way.
The "favourite" function allows Twitter users to show their appreciation for tweets and to bookmark them.
'Highly concerning'
Mr McCartney's Labour rival Lucy Rigby highlighted a pornographic picture among his Twitter favourites last month, but was also criticised for retweeting the image.
Mr McCartney, who is married with two children, said in a statement that he never used the favourite button, despite there being 56 favourites on his page earlier.
He blamed Twitter's "security changes".
Writing to Lincolnshire Police chief constable Neil Rhodes, Mr Mann said it was "highly concerning" that someone had hacked Mr McCartney's account.
He said: "Constituents share personal and confidential details with their MPs and the hacker who had access to Mr McCartney's account would also have been privy to this information."
He asked whether an IP address could be traced in order to find out who had "favourited" tweets from Mr McCartney's account.
'Typical over-reaction'
He asked for his letter to be processed as a formal complaint and requested a crime number from police.
A spokesman for Mr Mann insisted it was a "serious issue" for the MP as he was often contacted by vulnerable people through the direct message function on Twitter.
Mr McCartney said in a statement that he welcomed "the assiduous action of Mr Mann".
The two MPs, whose constituencies are not far from each other, have previously clashed.
In May, the Lincolnshire Echo reported that the Bassetlaw MP told the Lincoln MP he was not welcome to take part in off-road driving in his constituency, claiming it would endanger local people.
Mr McCartney called it a "typical over-reaction from Mr Mann".