Fatal Devon microlight crash: Turbulence 'a factor'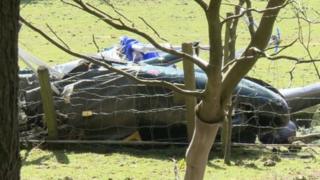 Turbulence is thought to have contributed to a microlight crash that killed the pilot and injured his nine-year-old passenger, a report has found.
The aircraft, which took off from Somerset, crashed into trees as it came in to land at Farway Common Airfield, south of Honiton in Devon, on 18 April.
The Air Accidents Investigation Branch (AAIB) also found the pilot, aged 50, was not familiar with the airfield and had little recent flying experience.
The aircraft was also overloaded.
AAIB investigators said the pilot had taken off from Westonzoyland Airfield, near Bridgwater, with his son on board, a full tank of fuel, and a load of sleeping bags and inflatable beds.
The Pegasus Quik aircraft struck the tops of trees after veering right on the final approach to land.
The boy told investigators the aircraft had "dipped down" as they neared the runway and likened this to turbulence earlier in the flight.
Airfield photograph 'old'
He recalled the pilot, his father, increased power and appeared to push the control bar as far forward as he could, but this did not prevent the aircraft hitting trees.
The pilot suffered internal abdominal injuries and severe chest injuries, and was pronounced dead at the scene.
His son had cuts, bruises and a broken arm.
The airfield photograph the pilot carried showed trees, but he would not have known the picture was five years old and they were likely to have grown.
The report said it was likely the aircraft descended into turbulent air in the lee of the trees to the right.
It pointed out the microlight's operator manual says airstrips surrounded by trees or other obstacles should be avoided since low-level turbulence is likely to be present.
Investigators found the weight limit for the pilot's seat was exceeded by 18 kg, which would have slightly reduced the ability to pitch up.
Records also showed he had not flown between August 2013 and March 2014. Although there was evidence he had flown twice since then, he had not had a refresher lesson.
The airfield's owner has now added notes to its website about turbulence and windshear from the trees close to the Runway 36 approach, and the height of the trees.