Gale warnings cancel Mersey ferry and Irish Sea sailings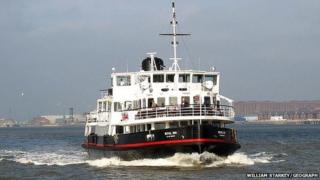 Liverpool's famous ferries across the Mersey have been cancelled with gale force winds forecast.
Crossings have been replaced by Mersey tunnel bus services during busy rush hour periods, said Merseytravel.
The Isle of Man Steam Packet Company has cancelled three sailings between Heysham and Douglas, and will decide later on the 19:45 service.
Stena Line cancelled the 10:30 GMT sailing to Belfast from Birkenhead with the 22:30 crossing also "in doubt".
Gusts of up to 70mph are expected in coastal areas of the north west, the Met Office said.
The Highways Agency has issued a Severe Weather Alert for high-sided vehicles, caravans and motorbikes, because the strong winds have caused an "increased risk of vehicles being blown over".
It also highlighted a section of the M53 near Runcorn, and the stretch from Wallasey to Birkenhead, as areas that could be hit hard.
Three flood alerts have been issued for the north west by the Environment Agency which said flooding is possible at places along the coast from Wirral to Fleetwood.
High tide is predicted between 13:10 and 13:30 GMT.
Blackpool Council has advised people to "be sensible along the seafront".