Avon and Somerset Police name and shame drink-drivers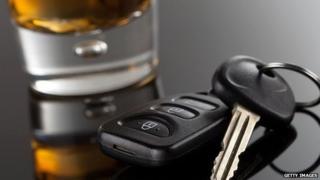 People who are caught driving under the influence of drink or drugs are to have their names published online by Avon and Somerset Police.
The force said it will publish the name of every motorist charged with a drink or drug-driving offence during December and into the New Year on its website.
The first names will go online on Monday, 8 December, and will be updated every following Monday.
Stop-checks and increased morning patrols will also take place.
The move is part of Operation Tonic, the force's annual anti-drinking and driving Christmas campaign.
Eleven motorists have so far been charged in the first five days of the campaign, the force told the BBC.
Supt Richard Corrigan said naming motorists would bring the force "in line with other forces" throughout the country.
"This is another tool in our campaign to stop people driving while under the influence of drink or drugs," he said.
"If just one person is persuaded not to take to the road as a result, then it is worthwhile as far as we are concerned."
Police and Crime Commissioner, Sue Mountsevens said: "Most people already know the dangers but for some people the deterrent will be a fear that their family, friends, work colleagues and neighbours will find out about what they stand accused of."