Nottinghamshire A453 project sees longest stretch open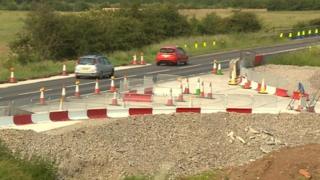 The longest stretch of the £150m, A453 so far completed has been opened to drivers.
The road, which links Nottingham to junction 24 of the M1, was a congestion hotspot and work to make it a dual carriageway began in January 2013.
On Thursday, a 4km (2.5 mile), single carriageway, stretch between West Leake and the new Mill Hill roundabout was put into use.
Contractors said they were on course for a full opening by May 2015.
In about two weeks, traffic will start to use a 1km section of the westbound carriageway between the canal bridge and railway bridge near the Parkway station junction.
Highways Agency assistant project manager Robin Jackson, said: "That's a significant milestone and we are delighted with the progress being made."