Wolverhampton university to open Telford Southwater centre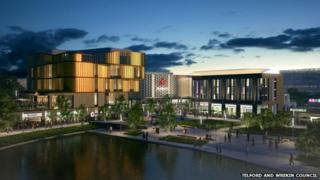 The University of Wolverhampton is to open a new centre at Telford's £250m Southwater complex.
Bosses are investing £500,000 to refurbish, staff and rent the top floor of the complex's new library.
It will open in March and provide "yet to be decided" courses, as well as offer advice to prospective students.
No students studying elsewhere will have to move and no existing part of the university will close as a result of the expansion, a spokeswoman said.
Meanwhile, bosses said they are in talks with Telford College of Arts and Technology about being a partner in the venture.
'Perfect fit'
University vice-chancellor professor Geoff Layer said there had been a university presence in Telford for 20 years and they were delighted to be expanding.
"As a university, we want to provide opportunities to an ever-widening audience as well as acting as an anchor and driver of economic growth," he said.
The first phase of the Southwater complex has seen the opening of the library plus restaurants, bars and a cinema.
The second phase will see the opening of shops and more than 100 apartments.
Telford & Wrekin Council's deputy leader councillor Richard Overton said the move was the "perfect fit" for the Southwater development.