Monitor to launch inquiry into Norfolk and Suffolk NHS Foundation Trust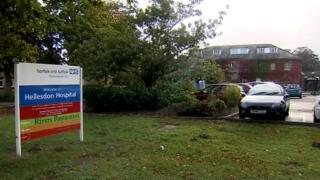 NHS regulator Monitor is to launch an inquiry into the mental health trust for Norfolk and Suffolk after concerns were raised over its finances.
Monitor said it would look into whether Norfolk and Suffolk NHS Foundation Trust (NSFT) had breached the terms of its licence over its £1.72m deficit.
The inquiry follows a Care Quality Commission (CQC) inspection.
The trust said it welcomed Monitor's review. Monitor said it would comment later.
In a letter to the NSFT, seen by the BBC, Laura Mills, deputy regional director of Monitor, said it had been decided to start the investigation due to the "deterioration in the trust's financial position" and feedback from the CQC inspection in October.
'Issues have escalated'
Ms Mills says in the second quarter of 2014-15 the trust had a planned deficit of £290,000 but reported a deficit of £1.72m.
The NSFT has been open about its financial position and told the BBC last month it was predicting a £2m deficit by the end of 2014.
Ms Mills also said an external review of the trust's management structures found a "number of areas that could be improved".
"Monitor is concerned about how these issues have escalated and whether they could indicate a governance failure and a potential breach of the trust's licence," she said.
NSFT chief executive Michael Scott said: "We are all well aware that the NHS both locally and nationally is under intense pressure, both in terms of demand for services and funding and we, too, are facing considerable challenges.
"There are particular funding problems facing us in mental health and we welcome Monitor's review.
"In the interests of our service users and staff, we are determined to see a fairer deal for mental health and we're working to improve the culture and leadership of the trust. We look forward to working with our regulator and commissioners to make sure we get back on track financially."
Disparity in funding
The trust has to make £40m of cuts by 2018 and Mr Scott has highlighted the disparity in funding between mental health and mainstream acute hospitals.
He said that over the last four years mental health would have received £30m more had it been funded in the same way as NHS acute hospitals in Norfolk and Suffolk.
Campaigners have criticised the trust over cuts in the number in the beds, leading to more patients being sent out of the counties.
In November, the BBC revealed the number had leapt up to 50, with patients sent as far afield as Darlington, Harrogate, Brighton, Woking and Nottingham, although the number has now been brought down to about 30.
A spokesman for the Campaign to Save Mental Health Services in Norfolk and Suffolk said: "It is vital that those who depend on mental health services do not pay the price of underfunding of NSFT.
"If mental health had enjoyed the same increase in funding as physical health since 2010, NSFT would have an annual budget £30m higher than it does today.
"Mental health services in Norfolk and Suffolk need money not soundbites."