Winter wonderlands: Where is the British Christmas going wrong?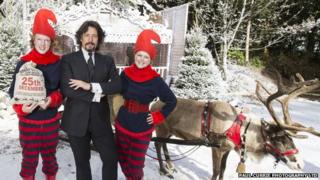 Laurence Llewelyn-Bowen's Magical Journey is just the latest festive attraction to attract complaints. But are our expectations too high? Or does British bonhomie pale in comparison to Christmas in other countries?
Over the ground lies a mantel of white... a heaven of diamonds shines down through the light...
Except it's not. Not in Sutton Coldfield where the Magical Journey has just reopened for business after closing under the weight of customer complaints.
But the Magical Journey - a Christmas-themed visitor attraction created with the help of Llewelyn-Bowen - is far from the first British winter wonderland to feel a distinct chill from the public.
A flurry of festive funparks have fallen flat in recent years, leaving visitors disappointed and social media full of complaints about high prices and low standards.
"They made out it was going to be a fantastic, Narnia-like experience - and there were workmen wandering around with cigarettes," said mother-of-four Michelle Guarini, from Stourport-on-Severn in Worcestershire, who paid £150 for her family to visit the Magical Journey.
"The Christmas market was about six shacks and there were some elves who didn't seem to know what they were doing. The kids were bored. It was appalling."
Winter blunderlands
In 2013, a wonderland attraction in Campbell Park, Milton Keynes, closed on its second day, following complaints from visitors that Father Christmas was a "young, thin man" in a Santa suit and a so-called ice rink was "a few plastic sheets"
Meanwhile, further south at Beale Park, in Reading, some parents were also disappointed with The Christmas Adventure, billed as "new and amazing... for all the family".
Stately Solutions Ltd, the private company behind the event, charged £12 per child and £8 per adult but parents were not impressed.
"It was all very rushed and impersonal, and... cost a fortune," wrote mum Tina Presly on the Beale Park Facebook page.
"The grotto was littered in empty coffee cups. You had to pay extra for the so-called Christmas train. All it had was a bit of tinsel down the sides. It was £2.50 a ride, when it's normally only £1. Why they're charging extra for it, I do not know."
Owner David Reed said he had only received a small number of complaints and the train had now been decorated. "We're not perfect and we're trying to meet any complaint that's justifiable," he said.
But are expectations too high? Or is it just that the British have lost their touch when it comes to bringing glad tidings?
Experts question whether such ventures are on a hiding to nothing. The British expectations for the festive season seem to be based on dreams of a white Christmas that often, simply does not happen.
"These winter wonderlands are an attempt to accumulate all of the elements we traditionally associate with Christmas, such as greenery, lights and snow," said Professor Martyn Bennett, from Nottingham Trent University.
"But snow has been a lessening feature of Christmas since the calendar was changed in the 1750s. The festivities used to be celebrated in January but the end of December is much milder and we rarely get white Christmases."
British December weather, says Professor Bennett, can be damp and gloomy - not the ideal conditions for tip-toeing around snowy woods on a magical quest to find Father Christmas.
"In places like northern Germany they don't have to worry about a lack of snow," he said. "But these kind of wonderlands often have to resort to fake snow which is not brilliant and it can cost a lot of money to create the impression you are in a winter wonderland."
But, despite our grey skies, the wonderland idea seems to be something we are determined to import, together with Christmas markets and outdoor ice rinks.
"We seem to want to engage with a broader international cultural experience - for example, Hallowe'en has become very popular and days like Black Friday - I've even heard some people talking about Thanksgiving," said Dr Sarah Upstone, who teaches English literature and cultural heritage at Kingston University.
However, she points out Christmas has always been about importing ideas - whether that be the Victorian traditions of turkeys and trees, or our American-inspired depictions of Santa Claus.
"The problem is that when we Brits try to recreate something that another country does really well i.e. German Christmas markets or Lapland-type experiences, we can never do them with quite the same panache, so more often than not we end up disappointed," said Phoebe Smith, editor of Wanderlust travel magazine.
Yet the very existence of the winter wonderlands suggests there is a longing among British people for an experience that goes beyond the high street.
While present-buying and window-shopping doubtless represent a key part of the modern Christmas experience, we seem to hanker after a more communal, less commercial form of festivity.
"In the past, there have been traditions that brought us together - things like church services, family gatherings - even the Queen's speech or television shows," said Professor Bennett.
"Maybe this commercial winter wonderland is an attempt to recreate some of those lost features of Christmas."
Christmas traditions - just what is a 'British Christmas'?
The pre-Christian midwinter festival of Yule existed across northern Europe
The decorating of houses with greenery, feasting and even singing Christmas carols was widespread and not specifically English
However, Christmas cards and crackers are British inventions
Plum porridge, a traditional English delicacy, is possibly the antecedent of mince pies and Christmas pudding.
The modern idea of Santa Claus and the Christmas tree were both Victorian imports
Source: Dr Neil Armstrong, from Teeside University