Malcolm X anniversary marked at Oxford Union with extremism debate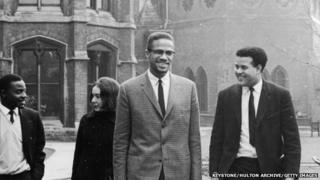 A question posed by the US political activist Malcolm X 50 years ago was debated at the Oxford Union to mark the anniversary of his visit.
In 1964 he spoke at the union with the motion, "extremism in the defence of liberty is no vice; moderation in the pursuit of justice is no virtue".
Campaigners and activists debated the idea, and whether it is relevant half a century later.
Malcolm X visited the UK in 1964 on his way to the US from Africa.
Born Malcolm Little, he had become a member of the Nation of Islam while serving time in prison aged 20, and rose to become one of its leaders.
He spoke out in favour of black supremacy and advocated the separation of black and white Americans - unlike the civil rights movement, which had placed an emphasis on integration.
In February 1965, shortly after repudiating the Nation of Islam, he was assassinated by three of its members at the age of 39.
During his speech in Oxford on 3 December 1964, he said: "We are not human beings unless we band together and do whatever, however, whenever is necessary to see that our lives and property are protected, and I doubt that any person here would refuse to do the same thing were he in the same position."
Malcolm X in Oxford documentary on BBC Radio 4 on Saturday.