Psychiatrist's concerns over Norfolk and Suffolk children's mental health care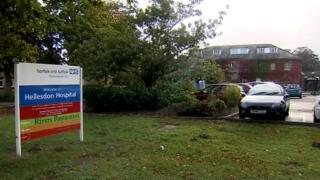 A child psychiatrist has said she resigned from her health trust job after becoming disillusioned with the service for young children.
Dr Irene Lampert, who worked for the Norfolk and Suffolk Foundation Trust (NSFT), said she was concerned about a decline in care standards.
She said the trust was putting resources into treating 14 to 26 year olds and neglecting those younger.
The trust said its child services had been praised at a national level.
Dr Lampert praised her colleagues' work at the trust but said it had been hit by a cut in resources, increasing stress among staff.
"I resigned because I found that the working environment at the trust was not going to be good for my mental health and the health of my family," she said.
"I also did not think the trust was able to provide a comprehensive service - with the destruction of mental health teams.
"I think, without a shadow of a doubt, over a two-year period the service got worse."
NSFT has to make £40m of cuts by 2018.
Dr Lampert, who quit earlier this year, said it was vital to treat health problems in children before they reached 14, to help avert future problems.
"I feel very strongly we need early intervention, we can't wait for full-blown mental health problems when children reach 15 or 16 years," she said.
NSFT said the government's action plan for mental health had praised its treatment of young people, earlier this year.
Dr Jon Wilson, lead consultant psychiatrist for youth, said: "There is certainly more we need to do and we are working to that end with commissioners and providers.
"We also have a very good track record of working with young people to develop innovative and holistic services.
"We are also dedicating resource to 0-14 year olds, to try to ensure sufficient resource and expertise is committed to this group.
"It is important to get these services right before problems become entrenched and people's lives are changed forever."
Campaigners have criticised the trust over cuts in bed numbers, leading to more patients being sent out of the counties, to places such as Darlington, Harrogate, Brighton, Woking and Nottingham.