'Skull Cracker' Michael Wheatley wins sentence appeal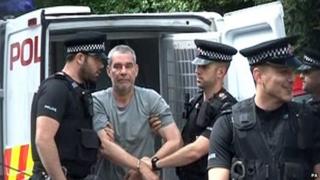 An armed robber nicknamed the "Skull Cracker" has won an appeal against his sentence for a raid on a building society while on the run from prison.
Armed robber Michael Wheatley was jailed for life in May.
At the Court of Appeal he successfully challenged an order that he must serve at least 10 years in jail before becoming eligible to apply for parole.
His tariff was reduced to eight years, but judges said that would not be the point when he would be released.
Mr Justice Cranston said: "We must not trespass on the role of the parole board in determining when the appellant will be released."
Wheatley had previously pleaded guilty to the raid at Chelsea Building Society in Sunbury on 7 May in which £18,350 was stolen.
During the trial at Guildford Crown Court he also admitted possessing a firearm and being unlawfully at large .
Wheatley had 23 previous convictions for robbery, two for attempted robbery and 18 for related firearms offences.
He was given his nickname after pistol-whipping bystanders during previous crimes.
He was serving a life sentence at Standford Hill prison on the Isle of Sheppey in Kent, when he was granted day release and failed to return on 3 May.
After being on the run for five days following the Sunbury raid, he was arrested in Tower Hamlets, east London.
Mr Justice Cranston, who along with Lady Justice Hallett and Mr Justice Knowles, reduced the tariff, added that he still faced a "very considerable period" behind bars.
"This was a very serious offence and the fact that it occurred when the appellant was on day release must clearly be a matter for public concern," he said.