Fetcham couple stabbed to death: Viktoras Bruzas sought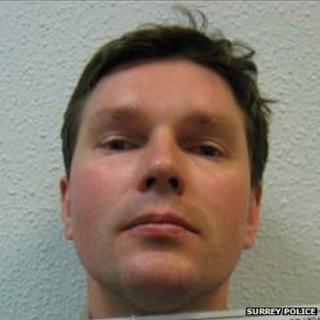 A manhunt is under way after a husband and wife were murdered at their home in Surrey.
The bodies of Patrick and Gillian Kettyle, who were in their 50s, were found at a house in Fetcham, near Leatherhead, in the early hours.
Police are trying to trace Viktoras Bruzas, 38, from Surrey, who they believe may now be in Sussex.
Scene of crime investigators have recovered a knife from the road near the home the couple shared.
A man in his 30s who was arrested in Walton-on-Thames on suspicion of conspiracy to commit murder has been released on bail, Surrey Police said.
Ch Insp Mark Preston, of Surrey Police, said officers called to the scene at about 00:30 GMT were dealing with a double murder. He said police needed to trace Mr Bruzas as a matter of urgency.
"I would urge members of the public not to approach him but to call Surrey Police immediately if they know his whereabouts," he said.
Mr Bruzas, a Lithuanian builder who lived in Walton-on Thames, is thought to be driving a black Mercedes, registration AU11 WJY. Police said he also had connections to south-east London.
Mr Preston described Fetcham as a small, close-knit community.
He said the incident was likely to have a lasting impact on the village, but specialist and neighbourhood officers were working with residents.
All-ports alert
Police said the Kettyles and Mr Bruzas were known to each other but the exact nature of their relationship was still to be established. Their bodies were found by another resident of The Copse.
Post-mortem examinations are due to take place on Friday, police said.
Surrey Police said Mr Bruzas was believed to have travelled to West Sussex, and officers are now concerned he may try to flee.
Det Supt Nick May said: "An all-ports alert has gone out while we are also carrying out background checks and speaking to friends and neighbours.
"We are also liaising with both the National Crime Agency and Interpol who are in touch with the Lithuanian authorities."
Building developer
Simon Ferrar, who lives in The Copse, said police knocked on his door at 02:30 to ask questions about the killing.
"We knew [the couple] in passing. They were a very friendly couple who were quiet and kept themselves to themselves," he said.
"We walked the dogs with them and they've lived here probably six or seven years.
"I think Gill was retired and Patrick ran a development business."
Mr Kettyle is listed as the management director of building development company Kettyle Ltd, which has been running for 29 years. Its registered address is the family home.
Another neighbour, Peter Raw, said: "It's shattering at any time but when it's virtually on your doorstep it's even worse.
"It's a quiet neighbourhood, a lovely neighbourhood. Most people have probably lived here a long time anyway and live a normal quiet life."
Earlier, police tape was used to seal off a large area outside the house.
Officers extended the cordon to cover a larger part of The Copse including a section at one end of the road.