'Beautiful' Harlow blighted by illegal traveller sites, says MP Robert Halfon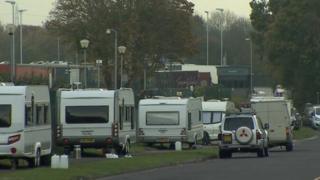 Harlow is being spoilt by illegal traveller encampments, according to the town's MP, who is calling for tougher action to remove unauthorised sites.
In a debate at Westminster, Robert Halfon highlighted the distress the issue was causing, saying it had caused residents "misery" over the past year, when 81 illegal encampments had been set up in Harlow.
He says they're blighting the town: "Harlow is beautiful and I am proud to live there but illegal encampments are destroying our reputation and the quality of life of many Harlow residents.
"I have nothing against travellers as a community... but like most residents I cannot accept that it is alright to build illegal encampments wherever they like. Equality before the law means everyone should be equal before the law."
MPs' campaign
MP Stewart Jackson said his constituency of Peterborough didn't have the same degree of problems. Nevertheless, he believes that "we need equity between the travelling and the settled community, otherwise vigilantism would happen" and he went on to describe how a caravan in the city had been set on fire.
And Saffron Walden MP, Sir Alan Haselhurst, complained that illegal travellers had camped on a cricket ground at Hatfield Heath in Bishop's Stortford and damaged the pitch. "The public is looking for fairness," he said.
Brandon Lewis, minister for Housing and Planning and Great Yarmouth MP, replied for the government. He said that the government accepts that unauthorised camps have become a serious local issue but police and councils did have strong powers available already.
He said: "We recognise the distress and expense caused by illegal camps. I am troubled by what I have seen and heard, although this is a problem caused by a small minority of travellers.
"We are concerned over the right balance between the needs of travellers, the settled community and the green belt but strong powers are available and when used swiftly, we believe they are sufficient."